"My Mother and I, Reading" and "But Do I?" by Oksana Marafioti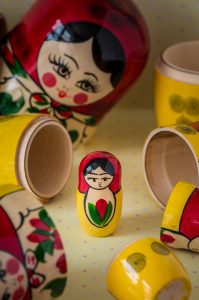 My Mother and I, Reading
When I wake up, the sun is peeking and I know my mother is reading downstairs with a coffee in hand, and the books on my nightstand grumble, eager to tell me—no, accuse me—of laziness because unlike mom who devours stories properly, I only ever read a page or two, well, on occasion I last an entire chapter before I yawn and my eyes water and I doze off, regularly missing the endings, but this morning feels new, so, still in my bed, I pick up Melissa Lucashenko's Mullumbimby—a novel of Aboriginal narratives—and now I'm in Australia, in the countryside of the Bundjalung Nation, on that farm, in that living room, at her kitchen table covered with a thin red and white plastic tablecloth, horses neighing softly outside while inside I'm riveted, listening to her tell stories of ancestors so different from mine they're a mythology and so similar that I laugh at their jokes, her land-love coursing through me as I think, I know this woman, in her words I can walk for miles taking care not to damage the flowering Billy Buttons on my way up a ribbon path fanned by sprawling green woods I've only seen in movies, not that it matters—the foreignness—she says, leading me further where my bare feet begin to sink into squishy red earth, the product of rains—just like me, I suppose, if I could be so poetic—because my mother cried monsoons while she carried me, in her obsession with Doctor Zhivago which Boris Pasternak based in part on his life, so you see he wasn't as gentle a guide as my Melissa and didn't lead my mother as tenderly but instead forced her through his broken heart, made her trudge over blizzard-whipped Russian fields where if your feet squish even a little, well, you better watch out for frostbite…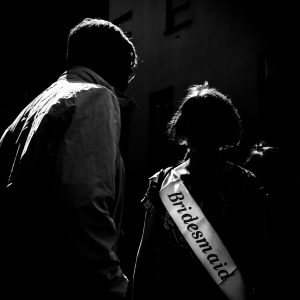 But Do I? 
I'm told I need a husband.
In the morning, my mother and I drink Armenian coffee from tiny porcelain cups on our backyard porch. We chat about the leaking roof from last night's rain, about the carpet in need of a shampoo, about our neighbor's latest efforts to inspire us to join his fledgling church with promises of joys of a certain kind. In the end, my mother turns and says, See? With a man in the house, we wouldn't have these problems. An argument follows. I storm off. Only a few hours later, I download Tinder. A place of men galore, though not the type who'd fight battles with baby ministers across my backyard fence. But I do, I date for a while, trying not to forget why I need a husband.
wake up in the morning
the bed is yours
so is the world

Oksana Marafioti is an award-winning American writer and activist of Armenian-Romani descent. Her memoir, American Gypsy, was published in 2012 by FSG. She has published essays and stories in Time, Slate, The Rumpus, Pilgrimage, storySouth, and several anthologies, including Immigrant Voices (Penguin Books, 2015). She is a former Library of Congress Literary Fellow and the current Picador Professorship award recipient at the University of Leipzig, Germany.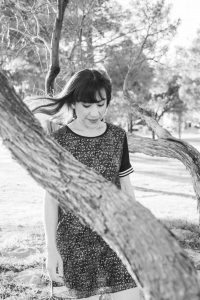 –Art by Giuseppe Milo