Monster by Young Lee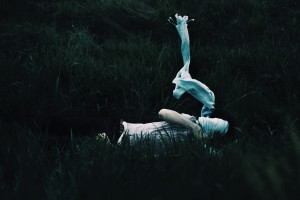 I stabbed a pencil into her neck and it felt good. The sudden rush of release was better than shooting meth. I felt light and lambent. I am a dove. I let go of that lead pencil and watched in slow motion as she pulled it from her neck. Blood like a fountain shot from between her fingers and it made me think of my mother in summertime. Watering the front lawn with a hose. Those perfect long fingers gripping the hose's green snake-like body. Her thumb pressing firm and steady over the mouth.  I'd spy from behind a shrub with the fresh cut grass poking my feet and catch rainbows flicker between the spray of water. She'd swing it back and forth, making sure every inch of the yard was soiled.
The throat belongs to Stella. The throat that swallowed a million sunflower seeds. Wet and sticky shells collected onto the palm of her hands. The hands never washed before shaking the dozens throughout the day. Her mother must not have taught her better. I stand there as she's flailing around at her desk searching for something. Maybe her phone. Maybe something to stop the bleeding. Maybe she's hidden a gun. Whatever it is. She's never going to find it.
She leans her back against the wall and slides to the floor weak, having lost too much blood. She tries to say something but I think I punctured her vocal cords. I doubt it was worth hearing. She falls to her side. Her left ear dips into her own blood. I imagine she can hear her heart better from that side. The desperate patter resonating through the red cells and out of the white. Followed by the steady and drained drumming. A few more pumps. Then finally the beating stops. They say twenty one grams are lost at the time of death. I wonder how many grams was taken of the weight lifted from me.
We are alone at the office in her corner cubicle with a window. It is sometime after sunset. The hour when the blue overtakes the orange. I watch as her skin turns grey next to her long manicured nails armored with rhinestones. I can still hear the sound they make, every time she flicked the crust from beneath the nail bed. Mother never approved of dirty nails. She would take my hands and force them under scalding hot water. With a bristled brush she would scour them until they were clean.
Stella's eyes remain on me even after her last breath. I bend forward to see if there is a difference between life and death. There is a spark in both eyes, but it is only the fluorescent ceiling light reflected there. Her dyed red hair blend with the pool of blood. It curls and swirls as the rest of the liquid makes its exit. Like eddies in a lake where my mother taught me swimming. I spied them from above afraid of the unseen monster. I crouched at the edge of the quay when mother pushed me in from behind.
"Keep moving your arms and feet! Look here Stanley. Look at mommy."
Between Stella's slightly parted lips, her teeth look stained with too much wine. She was always inappropriate during office hours. Sitting on top of desks in short dresses. Leaning a little too close in low blouses. Throwing herself all over every male staff, except myself. Her skirt is hiked up mid-thigh. Big lumber thighs that trembled with each thrust of the hip as she stalked the halls in front of my cubicle. She was always taunting me. Mocking me. Teasing me. I placed my hand on her inner thigh and slowly moved up her skirt. It felt cold and smooth. I tried to imagine her warm, but a chill ran through my arm and shot into my gut and I pulled away.
"Oh Stanley! Not again. Look at this ugly mess. How does a grown boy continue again and again to piss in his bed? What was that? Stop muttering! Should I just cut off your weenie? Will that stop this embarrassment? How is any girl ever to love you? I don't know how I've done it for this long. Seriously, what the hell is wrong with you? Let me see it. Stay still. Pull your pants down right this minute. Right now! Dear god. Look at that thing. Such a shame. What a waste. Quit your crying. There's enough wetting for one night. Go wash yourself. Get out of my sight."

Young Lee
writes under a thousand words at a time. She is a student at Writing Pad and Writing Workshops LA and is published in
99 Pine Street
and
Brilliant Flash Fiction
. She is currently working on her first novella and occasionally scribbles on her blog,
youngleewrites.com
.
.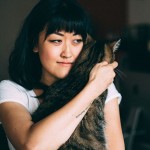 –Art by Milan Vopálenský & Esmahan Özkan
Buy Kicks | Nike Dunk High & Low – March 2010 Releases , Fitforhealth