Milan Vopálenský – Artist Profile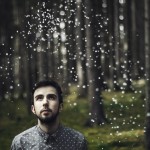 In a word, the photography of Milan Vopálenský is about love – love of the outdoors, of life, of being different, of adventure, of the stars, of color, of every single particle in the space all around us. In Milan's work, the very notion of existence is a gift, and this view of existence is expressed in how warm and inviting his pieces are. They want to mystify us with the idea of being born, of being alive. With Milan, we're asked to meditate on each and every breath that passes between our lips.
Check out Milan Vopálenský's work at:


ARTIST STATEMENT
Photography is a passion for me, I simply love the opportunity of expressing myself and my feelings.
What sparked your interest in photography, and when did you know you would pursue being an artist?
I always loved taking photos since I was a child. One day my uncle borrowed me his DSLR, I think it was Canon 7D at that time, and I was completely amazed by it. I decided one day I must have it too. In 2012, my wish came true, and I started shooting with my first DSLR. But it was only beginning. I was trying to improve my skills, after almost 2 years I published my photos on the internet.
 What other artists and art forms have influenced you and your work?
First artist I was influenced by was Martin Faltejsek;  he is a very talented Czech photographer. I found his photos and I fell in love with them. I admire more photographers that influenced me, Alessio Albi or  Adi Dekel [for example].
 Can you describe your current artistic process, habits, techniques you have formed?
My process starts with an idea [of] what I want to take. I prepare some sketches and properties. I go to an interesting place and start taking photos. I also try to improvise and feel the atmosphere of that place and catch it on a picture. After that, I use computer for the editing; I love playing with colors.
Is storytelling important in your photography?
When you can think about the meaning and imagine own interpretation.
What are some of your favorite books, poems, authors?
One of my favorite books is a philosophical novel Crime and Punishment written by F. Dostoevsky. I like also authors like Karel Čapek or Franz Kafka.
Can you put into words the way you have evolved over time as a photographer?
The beginning was hard, especially if you have a DSLR for the first time, you take photos of everything and you don't think about photos as you should. That was my case too. But over time I realized I should take it more seriously, I focused on portraits, emotions and stories. I'm still learning and evolving and hopefully I always will.
Where do you turn for motivation and new sources of inspiration?
I love exploring new places which inspire me. I'm surrounded by nature; I always imagine what type of photo I want to take here. I think this is my biggest inspiration.
 Discuss the role of community and gallery showings, etc to your growth as an artist.
I'm still creating a community; it's really important to me to get a feedback, [so] I can see that the work is worth it. I'm posting a photo on my instagram everyday; you find me also on Flickr or on my Facebook page. I'm really happy for everyone who supports me.
 What do you think is more important for your craft: passion, dedication, or raw talent and can you elaborate on why?
I think a combination of everything you mentioned is important. For this craft you must have passion, without it it wouldn't work. If you want to be still better sometimes you must dedicate [yourself to] something.
 What is a project, or theme you are currently working on, or something that is currently taking your attention, that you are aiming to explore in your work?
I'm preparing some interesting projects for the future, now it's everything in my head and on papers. I hope it will be great.Best Authentic Sneakers | Women's Nike Air Jordan 1 trainers – Latest Releases , Ietp