Measurable Hours by Tara Isabel Zambrano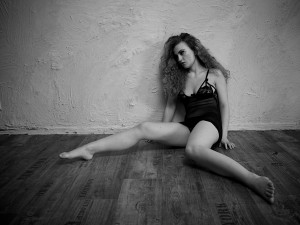 9:30 am – checking in at a hotel
The key unlocks a room with a twin-sized bed, orange wall paper, and an over-sized dresser. Nick hands $5 to the bellboy and closes the door. I lay my purse on the dresser and tuck my loose hair behind my ears. He empties his pockets; iPhone, cigarettes and the room key end up on the side table. We are here next to each other. There is an inappropriate desire in his eyes as he runs his fingers through my blonde hair.
I know the floral pattern of his unbuttoned shirt: chrysanthemums on beige background. The colors go with his tan face and arms, the pattern with his wide, angular jawline. It makes me want to lick the skin between his shoulder blades.
11 am – lying in bed
There is a good smell in the air. An apple pie baking somewhere. Nick talks about his wife's latest plastic flower collection. I cringe, resist my temptation to get up while he stares at her pictures on his phone. I keep my leg over his thighs. He puts his phone away. His fingertips trace the curve of my flattened breasts and circle my left nipple. We curl into the blankets, whisper. Outside, the light thaws the shadows, misplaces a faded moon somewhere.
1 pm – room service
He looks pleased. I extend my hand and pull out a cigarette from the pack. Room service? In a veil of smoke, he orders two chicken sandwiches, a side of fries, two cokes. This is the man I love, no, this is the man I love to fuck.
3 pm – strolling outside
We take the elevator down to the street. Crossing the busy roads, we hold hands, breathe in dust, merge with the fabric of the city. When he mentions his teenage daughters with a distant politeness, I think of my son's room full of scattered toys and open markers. A paper sign on his door and a family portrait on the side wall. I look like someone else.
We talk about my work, his recent investments, big data analysis, faux teak doors and an online store for handicrafts. Sunlight reflects from the multi-colored windowpanes of shops and parlors. In a world of infinite prisms, I feel like napping.
4:30 pm – the napping dream
I am naked in my bedroom with Nick. A torch of sunlight. Our bodies become one. My son is playing in the yard and my husband is working in his office, sighing with a slight ache. I try to stop Nick, but he pins me down and enters from behind. We stay locked even after Nick stops moving. I try to uncurl because I know the door is open. But my neck cannot lift my head, my arms and legs remain stuck. I keep falling back to the bed releasing puffs of fatigue.
6:15 pm – awake in bed
Wrapped in a bed sheet like a burrito, I watch Nick, his knitted brows, his eyes staring at the laptop screen. He looks bigger, his legs stretched on the table, filling up the room.
I envy his productivity. Walking to the bathroom, the air feels heavy, pressed to my body. Underneath my breasts something beats harder. Between my shaved legs is a triangle of flesh that has become blind. Should we meet again is about to become an issue.
6:45 pm – dinner in the restaurant on the terrace
He makes a call, probably to his wife. I look around; we are the only ones here. Two waiters stand in the corner. I move my bangs away from my forehead, fake-focus on the laminated menu, wondering what my husband is doing right now, suddenly hunger for a coal-fired pizza.
8 pm – just before heading out
There is a roomy gap between him and our cabin suitcases. I settle there. He checks his phone, pushes it into the back pocket of his pants and hugs me. From the corner of my eye, I see the dark blades of the ceiling fan. Listening to his heart, I hear mine. I am thirty-nine, married with a son.
10:30 pm – on red-eye flight, dozing
Drifting away into another dream, I'm planting bulbs in my yard, my green gloves deep inside dirt, memories flowering on my back. I run inside. Past the screen door, my husband is waiting, the skin of his palms pulled to a slant as he extends his hand. I look him in the eye, match his smile, follow him into our story. Not speaking, just walking, trying hard not to look back.

Tara Isabel Zambrano lives in Texas. Her work has been published or is forthcoming in Vestal Review, The Minnesota Review, Storm Cellar, SmokeLong Quarterly and others. She moved from India to The United States two decades ago and is an electrical engineer by profession.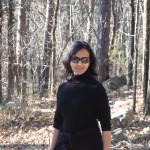 –Art by Magdalena Roeseler
Running sneakers | Nike Air VaporMax for Men & Women – Buy Online – Ietp