Leaning Mannequins by Niamh Finnegan-Roberts
"In their sulphur loveliness, in their smiles, these mannequins lean tonight."
You can hear no sound; no noise escapes from behind the glass. But you can see, through those transparent panes, women almost nude, you can't hear their voices- but you hear the voices of men: sing-song jeers, comparisons, loutish leers. Those infamous red lights are reflected in the motionless waters that lie between two rows. Exact replicas, a mirror image sits on the water. I'm seeing double. Lines of women exist behind these windows, exposed in harsh tones of ruby light. Some tap and beckon, others sit, slumped, weary with unsmiling eyes. A cold splinter of moon hangs in a cloudless sky, all is made too visible.
I'd expected decadent glamour, an air of erotic allure, but I see too much. I'm immersed in disappointment; this place doesn't excite or entice. I don't feel anything, other than a consciousness of my own role as spectator. I can't escape the frozen expressions- the silence. Despite myself and what I thought I understood I feel uncomfortable, another onlooker in a crowd. I sit on the edge of the canal, the soles of my shoes hovering just above the dancing red lights. Exhalations of smoke rise and swirl, white and blue and grey whilst I wait for you.

Niamh Finnegan-Roberts is an undergraduate at the University of Sussex studying English Literature. Her academic interests center on modernist literature and favourite authors of hers include James Joyce and Jean Rhys. Feminist politics and power relations are at the forefront of Niamh's work and she enjoys deploying psychoanalytic perspectives in her critical writing. "Leaning Mannequins" is Niamh's first piece of published prose.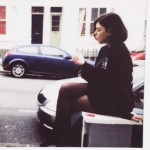 –Art by Milton G. (Paradise Found)