Lamb Of God by Al Kratz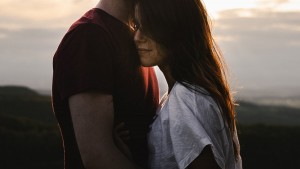 Young, beautiful-skinned, Mary Agnus sits alone in a booth at the bar she has forgotten the name of but suspects it's something like The Lucky Tap, Angie's Bar & Grill, or maybe The Yellow Bird. She has one hand on her face and, under the table, her other hand holds a necklace full of wedding rings. She strokes it like it's the rosary even though this one's a talisman of her own design. No one has offered to buy her a drink or eye-hunted her. Not yet. Waiting, she thinks about all the sinners.
            Hail Mary, full of grace, the Lord is with thee: blessed art thou among women, and blessed is the fruit of thy womb, Jesus. Holy Mary, Mother of God, pray for us sinners, now and at the hour of our death.
            Finally, she feels one. Maybe his name will be Rob or Jeff or Doug. It doesn't matter. There is always another. Maybe the light of her long yellow hair will remind him of an ex-girlfriend from college or the girl he had wanted who was out of reach. Maybe he'll see her loneliness and have to save her. Or maybe he'll just be driven by the temptation of her body. It doesn't matter. Once he sits down, everything will be possible except for stopping her.
            O my Jesus, forgive us our sins, save us from the fires of hell, and lead all souls to Heaven, especially those in most need of Your Mercy.
She doesn't look at him until he sits. He wears a suburban golf shirt, an unshaven face, and a haircut that shows he probably has a woman in his life. His name does turn out to be Jeff. He's two hundred miles from home. The way his eyes stay around her breasts reassures her that he is one of the sinners. She moves him beyond the standard lies into comfortable conversation as if this were destined to happen.
"I don't normally do this," she says, "but there's something about you." She lets the suggestion in her eyes bloom before adding, "Should we get out of here?"
He hesitates, but it's his test, so she doesn't mind waiting. She figures this could be the question he has always wanted a girl to ask, but now now that it's actually on the table, he doesn't want to fail. She loves this moment. It's the chance to escape. She watches his eyes. Which fear will he tend to? Will he be afraid of sin, or afraid of missing out on sin?
He looks back at her like it's her chance to escape. She can tell he has made his choice and she thinks something is different about this one. Maybe she misread him. Maybe she wants him to pass. But then he makes the move that hushes her doubt. As he puts his hand on her's, he steals a look at his watch. After he orders another round and goes to the restroom, she imagines him without shaking hands sending a lie back home while she slips one into his drink.
By the time they approach the hotel bed, the drug is kicking in. She doesn't have to let him touch her, but she's seen the divine way this one can move his body. Even though it's only through anticipation, she feels what it would be like to let him move against her own body and she feels her blood rushing and she knows this to be her strongest temptation.
            Why not me? Who am I to ignore this reward?
            Deep breaths only fuel the feeling.
            Virgin most prudent, Virgin most venerable, Virgin most renowned, Virgin most powerful,Virgin most merciful, Virgin most faithful, Mirror of justice, Seat of wisdom…        
            He is on the bed, shirtless, on his back, and she straddles his waist. In her left hand is her necklace. In the coin pocket of his jeans, she finds the predictably hidden wedding ring. She adds it to her string and counts them. Still well short of forty. Her journey in the desert still unfinished, yet no less urgent. She holds a red permanent marker in her right hand and prays over his sleeping body. She puts her hand on his chest and, for a second, allows alternate paths.
            Our Father, what more do you want from me? How much more do I have to give?
When her anger breathes, it converts to shame and she begs for forgiveness amid the spell of unexpected comfort in temptation. No. She sees the devil's trick. This man was the weak one. Strength runs through her, crawls around her hair, sends energy out her tingling toes. Her burden is her joy.
Lamb of God, who takest away the sins of the world, spare us, O Lord. Lamb of God, who takest away the sins of the world, graciously hear us, O Lord. Lamb of God, who takest away the sins of the world, have mercy on us.
            And then she writes on each of his palms the word, "SINNER," drawing the R down to an X at the center of his wrists. On the last one, she kisses the X long enough to leave lipstick. She rubs the red smudges. She pushes her nails into the fabric of his wrist.
            I'm the one that's here. I'm the one that's saving. My pain is nothing.
She finds his wallet, his car keys, his offering.
Hundreds of miles away, Mary Agnus leaves his car at a McDonald's and crosses the street to a truck stop. She sits down at a time-stained booth that hasn't been wiped clean in days. She's tired. Under the table she strokes her necklace of rings and between prayers she sneaks bits of sleep. She cries for the never blessed. Soon, it will be evening and she'll cross the street to The Lucky Tap, or Angie's Bar and Grill, or The Yellow Bird. There, another one will come to be saved.

Al Kratz is a writer from Des Moines, Iowa. His work has appeared in Gravel, Red Savina Review, Apeiron Review, 1000words, Wyvern Lit, and the British Fantasy Society Journal. He is also an Assistant Fiction Editor at Pithead Chapel.

–Art by Rona Keller