Kitten Egg by James R. Gapinski
My cat lays an egg.  What the hell, cat?
I'm not sure what to do with the aforementioned egg.  My cat doesn't seem to know either.  She bats it around.  I worry that she will break it, so I put the egg in my bathroom and close the door.  I text my boyfriend about the cat egg.  He says he's not in the mood for jokes.
I Google some egg stuff.  I read that a forty-watt bulb will keep the egg warm.  I only have compact fluorescent light bulbs, and I'm not sure if I should look at the actual wattage or the incandescent equivalent.  Why are there no good websites about post-Edison egg hatchery?  I decide that a warm blanket is good enough.
My cat sits outside the bathroom door meowing.  It's that low-pitched meow that she does whenever she wants to pounce.  I fear for the egg, but it's not really my problem, so I go to bed.
By morning, the bathroom door is open, the egg is bigger, and my cat is gone.  I put up Lost Cat signs, but I suspect she was absorbed into the egg.  I take the door off its hinges and roll the egg out of the bathroom.  I arrange some blankets on the living room floor and watch TV with the egg.  I pet the egg as if it were my cat.  It vibrates a little, like soundless purring.  I call my boyfriend and tell him to come see the egg.  He's drinking with his buddies and can't make it.
I fall asleep on my sofa.  By morning, the egg is regular sized, and my boyfriend stops by with coffee.
He doesn't believe that the egg was ever huge or that it absorbed my cat.  He says we should stop bickering and start looking for my cat.
I say I already put up Lost Cat signs.
He says that I'm in denial.
I say I'm not.
He says that the egg is bullshit and that I'm delusional.
I say he's an asshole, and I know he's screwing his ex.
He says he's not, and he accuses me of calling phone sex lines.
I say I'm not, even though I really am.  It's embarrassing.  Who actually calls one-nine-hundred numbers these days?  It's all about the Internet and webcams now, but for some reason sound gets me off more than sight.
He threatens to break the egg but storms out instead.
As he leaves, my cat saunters past him, back into the apartment.  My boyfriend shakes his head at the cat.
My cat sits on the egg gently.

James R. Gapinski is managing editor of The Conium Review. His fiction has appeared in Juked, Word Riot, NANO Fiction, SmokeLong Quarterly, and other publications. He earned his MFA from Goddard College. James lives in Portland, Oregon with his partner and a collection of 8-bit video games. Find him online at jamesrgapinski.com and on Twitter @jamesrgapinski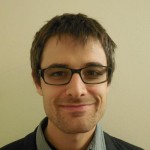 Running sport media | ナイキ エア マックス エクシー "コルク/ホワイト" (NIKE AIR MAX EXCEE "Cork/White") [DJ1975-100] , Fullress , スニーカー発売日 抽選情報 ニュースを掲載!ナイキ ジョーダン ダンク シュプリーム SUPREME 等のファッション情報を配信!