Joanna Jankowska – Artist Profile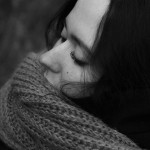 1.What sparked your interest in photography, and when did you know you would pursue being an artist?
I grew up in house where art of any kind was always much appreciated. My parents used to buy and collect fine art albums, they took me to the cinema in very young age (I saw my first David Lynch movie when I was 7!), we had a massive collection of VHS tapes and music cassettes, and Cds… My dad was a big admirer of analog photography, he tend to sit for hours in his darkroom. When I was a very small girl he used to take a lot of portraits of me, that was his idea of taking care of and spending time with little child and when my mom was away at work. So I guess all this made me pretty familiar with artistic stuff in general but I never thought I would become photographer, it just happened accidentally. I was in high school and I got my first camera for 18th birthday and just started to take photos of everything – some first portraits with friends, some landscapes and still life. It was all very bad quality, I mean technically, because I knew completely nothing about photography. Terms like depth of field or ISO was a black magic back then 🙂 But I've realized that holding my camera and seeing world through lens makes me very happy and decided that I want to be a photographer. Now I'm 26, I'm much more skilled, I finished studies connected with photography. It all took me many many years of hard work and determination to achieve this goal to be an artist although I hate this world, really. You know, Salvador Dali was an artist, I'm just a girl who likes to take photos 🙂
2. What other artists and art forms have influenced you and your work?
There is a beautiful quote by E. Pena who said: "Everything around me has influenced my artistic behavior – music, culture, people walking, silence…". This short sentence defines my way of perception. My inspiration comes from everywhere, from daily life, from my dreams, from situations I see on the street, from my anxiety and even from boredom. The most inspiring things for sure are movies and music, also literature and poetry. I was always tempted by the dark side, alternative stuff, metal and goth music, horror movies, dark urban legends and so on so my visual interest are mostly connected with those things. If I would have to pick my top influential artists that would be: Jerry Uelsmann, Tim Walker, Eugenio Recuenco, Helmut Newton, Floria Sigismondi, Dead can dance, Peter Witkin, Zdzislaw Beksinski, Jan Saudek, Laura Makabresku, Silent View, Natalia Drepina, Tim Burton, Sarachmet, Giger, Otep Shamaya, Francesca Woodman, Jarek Kubicki, Jacek Poremba and many many more…
3. Can you describe your current artistic process, habits, techniques you have formed?
I always try to focus on light and camera parameters at photoshoot in order to have less work during post production in photoshop. I mostly use several things like curves/playing with contrast and adding colors if it's necessary. But I try to keep it as simple as I can. Sometimes I don't use any photoshop at all, it depends on the image, really.
4. Is storytelling important in your photography?
It is, definitely, but most of all my main goal is to make people feel something – doesn't matter if the emotion is bad or good – when they FEEL, I know my work matters. The worst thing is the lack of emotion . Of course I'd be happy if they could feel the exact emotion like anxiety – anxiety and disturbance – those are my two favorite terms when it comes to describe my photography, I think. My mom always says "My god, I'm gonna have nightmares after watching that!" (she's esp. scared of my bunny series in woods, she's afraid of creepy masks:)). This is the biggest compliment, haha!
5. What are some of your favorite books, poems, authors?
This is another addiction of mine, after music and movies – I have this kind of obsession when I'm near any bookstore – it's even worse than passing the bakery – I always have to buy a book! I esp like those little, intimate antique book stores where you can buy old and cheaper books. Again, there are plenty of authors I adore, I love gore literature the most so Jack Ketchum, Edward Lee and of course Stephen King are my gods. Another authors I like Simon Beckett , Neil Gaiman , polish poeat Rafal Wojaczek, Charles Baudelaire and his Les fleurs du mal , Tess Gerritsen , Jean-Jacques Sempé, René Goscinny (reminds me of childhood), Aleister Crowley… I also read a lot about witchcraft and witches, slavic culture and post apo stuff. So as you can see a total mix of everything, but that's who I am – I like to know of different things, on the one hand there's Crowley, on the other – Le Petit Nicolas ;).
6. Can you put into words the way you have evolved over time as a photographer?
For sure I've improved my technical skills, from buying a better SLR camera to getting knowledge about taking photos in general. I also grew up emotionally so this aspect also matters a lot, because I see me, my life and my art from totally different perspective. When I was younger and began to photograph I didn't realize what I want to say by those photos. They were just only "pictures", nothing more behind this. I just have a camera and that's all. Now I see this 100% different, than 8 years ago. I know exactly what is my main goal in photography, what my images are about. I've become more aware of what I want to say to the others by my work. It was a long but very valuable lesson.
7. Where do you turn for motivation and new sources of inspiration?
When I feel that I'm standing in the same one place, doing the same old things. I guess it's normal, you want to improve your skills, to motivate yourself in finding better and different ways of expression. It's kind of hard because it pushes you to step outside your comfort zone, to risk, to learn new things. We're lazy, we like things that we already know and the secret it is to let yourself go into the unknown – that's the point. My mind thinks in completely different way when I'm for instance happy and cheerful and differently when I'm sad. So also my images look different. There's is this sentence that says "art never comes from happiness" and I must say in my perspective it's 100% true. I was extremely motivated in taking photos after my grandmas death. She past away 5 years ago after long and hard struggle with cancer. All those unknown emotions and feelings that came to me after she died, all this new and scary parts of myself that I never knew of, it just started to pushing me doing stuff I never even dreamt of. I created my "Viva loneliness" series which I still consider at the best I've done ever so far.
But I'm also trying to motivate myself by watching, observing everything around me each day and keep up with new works from my favorite artists.
8. Discuss the role of community and gallery showings, etc to your growth as an artist.
When I joined Deviantart (somewhere around 2005) for instance, things looked differently. It really felt like community, people tend to talk a lot with each other, share stuff, comment more.. I must say in 2005 it was better than today. I met lots of people, some of them become my best friends. Truly wonderful time. Now, everything's on Facebook. Also the level of so called "art" is lower, anyone is an artist, anyone has a camera and can use presets in photoshop. I must say I feel disappointed seeing what's popular now on deviantart – nudity, soft porn or hard porn stuff, bdsm, fetishes – of course it doesn't mean I don't like those kind of stuff but it must be done GOOD. And it isn't… Times changed, people changed, reception of art changed, everything's changed. Being in community helped me a lot in the beginning. Now it feels more like a habit to see what's new on Deviantart. Still I think gallery showings are great tool to keep connection with viewers, to improve your skills and to promote online.
9. What do you think is more important for your craft: passion,  dedication, or raw talent and can you elaborate on why?
These three things are equally important, I suppose. There's like 10% of talent, the rest is my hard work, dedication, my love & passion to art in general. You can be talented but You have to be aware of this – without any hard work, without effort and without luck it's impossible to do your job. People often tend to get jealous when I say that I'm a freelance photographer – they think that I sit all day, doing nothing and money just fall out of your pocket . But it's a full time 24/7 job. Still, I consider this as my biggest passion, my main goal in life – to be independent and free and do things that I love.
10. What is a project, or theme you are currently working on, or something that is currently taking your attention, that you are aiming to explore in your work?
This year was a very good time to me, I've learned a lot, I met new people and finally I've decided one thing about my photography – to make things simpler. Simplicity is the key. After many years of over photoshoped stuff, unnatural looking models, I feel like I need to start making something new, something simple, more natural. You learn all your life and You evolve, I'm also changing, I'm growing old and start to look for different ways of creating my photographic worlds. So the plan for the nearest future is truth and simplicity. More photography, less post production. I also think of classical analog photography again… So maybe, maybe… Time will tell 🙂
trace affiliate link | adidas kids singapore shop directory list in india UV GY3438 Release Date – SBD