Iterations by Jesse Minkert
Life on many worlds has little time
to develop a flagellum
to cruise them through the soup
but time like a folded stratum breaks.
H-two-oh escapes into the vacuum
and all the clever single cells
have lost the opportunity to delegate
missions among their members
until the last flagellum spins
with nowhere worth the energy to go.
Momentum left behind in desiccated pools
and stones and dust.
On other worlds swarms of creatures swim
stand crawl walk run fly
create generations
diversify into niches
teem in crowded pools
push stones away and through layers
of rock cover the surface
darken the skies
scuttle on the floors of seas
but one day an asteroid stops by.
Many die. Some survive
for a while.
On a few worlds one beast has a gift
for invention: tools clothes shelters
farms cities books enemies slaves
guns bombs
gods.
Their end is not so hard to foretell.
They carry their extinction in their skulls.

Jesse Minkert lives in Seattle. For over twenty years he has written short radio plays to be performed and produced by blind and visually impaired young people in the Blind Youth Audio Project, and also many pieces for the Jack Straw New Media Gallery workshops at the Jack Straw Cultural Center, Seattle, Washington, in collaborations between Jack Straw and Arts and Visually Impaired Audiences. Minkert is Executive Director of Arts and Visually Impaired audiences. In 2008, Wood Works Press published Shortness of Breath & Other Symptoms. In 2014 Minkert self-published his chapbook, RAFT, with poetry and graphics by the author. His work has appeared in over fifty journals including the Cream City Review, Confrontation, Mount Hope, the Floating Bridge Review, the Minetta Review, Poetry Northwest, Common Knowledge, and Harpur Palate. Thanks to Raven Chronicles, he is a 2016 Pushcart Nominee. This year Finishing Line Press published his poetry chapbook, Rookland.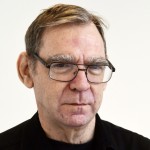 –Art by Magdalena Roeseler