Interview with Michelle L'amour, founder of Naked Girls Reading
The light's soft, the air's smoky, the furniture's jaunty and woody and speakeasy and dark. Candles. Velvet. Cognac. There's a sense of classy classlessness–a sense that at any moment a rowdy bellow might crack out from one of the patron's mouths. Patrons? Oh, there's plenty. Wise to reserve a spot in advance–this club fills up quick, with an audience ranging from men and women, older to college-age, couples and singles. A quiet pulls the audience's focus to the stage, as a naked girl heel-clicks on and begins to… read?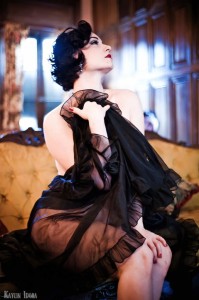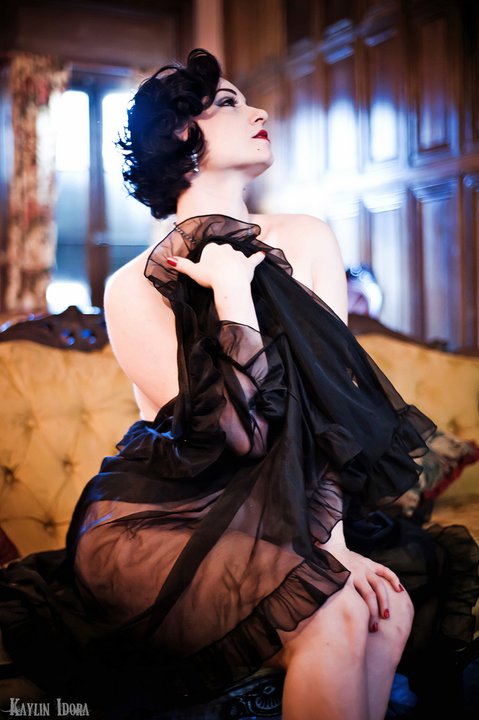 This is the greatest city on earth, our city, Chicago. And this is Naked Girls Reading (NGR), performed once a month at the Everleigh Social Club located in the West Loop.
Yes, NGR is located here in the West Loop, but also in New Orleans, Seattle, San Francisco, New York, Vancouver, London, DC, Melbourne–the list goes on. Chapters have sprung up everywhere; check out their website to see if you can attend this one-of-a-kind show near you. A heads up before you do so, this is not burlesque, but a live literary reading in the nude.
Founded by Michelle L'amour and her husband Franky Vivid on a lark almost exactly five years ago (in March, 2014 they're celebrating 5 years of NGR), Naked Girls Reading has grown into something of a phenomenon. I had the good fortune to have a chat with the enigmatic Michelle, as we discussed topics that might interest you writers out there: ranging from advice to reading in front of an audience and the more useful topic of why Kindles are, emphatically, NOT sexy.
Don't worry, I'm under no illusions that a lot of you will want to just read what Michelle L'amour had to say. While it's true I'm your average writer and therefore want everything to be about me (and my clever use of semicolons and em dashes), I'm committed to making it as (ahem) stripped down as the subject matter. Minimalism is what we like here at LO, guy at home reading. I'm not here to hinder you. See, I've even put Michelle's comments in colored text. You know, just like the Beatitudes. Which reminds me–whoever is sending Naked Girls Reading the Chick Tracts, that is, the cartoon gospels that make Dagwood look exciting, should probably just stop now and let people believe (or not) in their own way.
What was the inspiration behind all of this? "Naked girls. Reading. It's as simple as that!" Michelle said–and it really is. She and Franky were joking around, Franky being a writer himself–and if I know writers, he very well may have been lamenting the difficulties to get people to pay attention to his work, as I do frequently. To anybody who will listen. "NakedGirlsReading.com, that'd be funny," as so many great ideas are, "we bought the webspace but just kind of sat on it." When the time was right, they decided to try the concept as a live literary salon. Michelle asked a couple of girls she'd worked with in burlesque, and the rest is literally history.
WHAT KIND OF BOOKS DO THEY READ?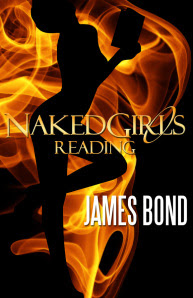 This month, January, it's James Bond–Ian Fleming's novels. We do accessorize according to the theme. We think we might come out painted gold this time. [ED: click the NGR image to find out more, it's happening this Friday in Chicago] We do all sorts of stuff–some other themes were Girls Gone Oscar Wilde, Alfred Hitchcock, Pulp Fiction, there's a ton.
They even host a reality-show themed event once a year called So You Wanna Be a Naked Girl! Ladies audition to participate, and at the event somewhere around ten girls come out and read for the first time. "The audience gets to vote on its favorite via text message," with the winner getting prizes, "it's very tongue-in-cheek, a good way to get a lot of people to try something new!"
WHAT'S A READING LIKE–HAS SHE HAD ANY TRANSFORMATIVE MOMENTS ON STAGE?
You're reading something that's important to you and that you want people to care about. Some of the readings can get very emotional. I have definitely cried while reading on stage. When you have tears bouncing off your boobs–it's very humbling. So it can get very emotional, not only for us as the readers but also for the audience.
GETTING NAKED IS THE EASY PART.
The thing that makes this so special is that a reading–well it's a very vulnerable event. Not only are we naked, that's the least of our worries. That's not where we're concerned–we're down with that. We're concerned with whether the audience likes what we chose, because what we've chosen is important to us–making us vulnerable in a very different way. You're reading something that is important to you and you want people to care about it.
Yes, people–albeit very wrong people–apparently make the mistake that these girls can't be smart and attractive. But the most insightful moment I got from our conversation was this gem (OK, this wonderful rant)!
It's so easy as an adult to just not read things that are good for you, everyone's reading People Magazine or just this trash all the time. I don't read that stuff because I think it's unhealthy. I wanted an excuse to read more, because it's so easy just to NOT. To not grow intellectually as an adult as much as you do as a kid. You have to read these books when you're in school. But you don't have to do anything as an adult, so most people don't. It's great because we're exposed to a lot of new stuff that I haven't necessarily read–or go back to some old stuff that I haven't read in forever. The audience members get really excited, and we have a lot of repeat audience. I like to think they're coming for the literature. Hey, they've already seen us naked. That's not changing. They get excited–"oh what was that passage" oh "I should really get back to that book"–I think it's really important to get people excited about literature. We're also very passionate about using books. No one is allowed to use a Kindle on our stage ever. EVER. It's a rule across the board for all chapters–no Kindles. I think it's tacky and we're not into it. The book is super sexy, it has a smell and the pages have a certain feel and weight. It's a very sensual experience, why take that away. So books it is. That's it.
THE SHOW CAN BE EMOTIONAL AND TRANSFORMATIVE, BUT ALSO FUNNY
It can also be incredibly hilarious. For our Bedtime Stories theme we read Go the Fuck to Sleep, which was ridiculous. One of the funniest moments was when we did a food themed one–there's an author called Andrew Shaffer, his work we read is called The Fifty Shames of Earl Grey, a parody on you know what. And there's this ridiculous food scene in this book, and I read that. I could barely get through it. The audience was dying, and I was laughing, and the girls were laughing–it was just mayhem.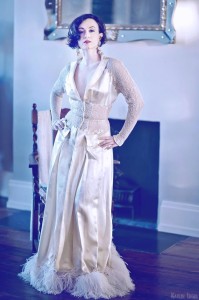 DOES SHE HAVE ANY ADVICE FOR US POOR SAPS THAT STILL FUMBLE WITH BOOKMARKS WHEN READING IN FRONT OF AN AUDIENCE OF TWO? (THE BOOKSTORE CLERK AND THE OTHER BOOKSTORE CLERK)
Picture them naked.
WRITING CONTEST.
THESE GUYS HELP PROMOTE YOU. YOU WANT AN AUDIENCE, WHELP, YOU'LL GET ONE IF YOU WIN THIS PUPPY.
It's the Literary Honors Award and we've been doing it for four years. We usually ask for submissions starting in March and we have a deadline on September 1st. We have judges from the literary world that read the finalists' work and choose a winner. Submissions come in, and the girls read all the work, and we pick our top five and send them off to the judges. The judges rank them, and then we have an event where we read all the finalists and announce the winner. The winner this year is from New York. His name is Bradley Spinelli and he won for his work titled Killing Williamsburg–the town in Brooklyn. It's really gritty. Really raw. Dark.
And there you have it.
Naked Girls Reading.
It's as simple as that.
In solidarity,
Mike Joyce
Editor-in-Chief

–Photographs by Kaylin Idora