Inside by Christie Wilson
It was an odd moment, dampening of sound, compression of time and meaning and matter. We were in the library, a refuge after many hours in the bronzy summer sun. When it happened, our skin still smelt like burnt salt. Life had to find somewhere else to be.
Emma looked at me with her giant blue eyes. "Mama, I'm going in here now." She was holding an alphabet picture book. I looked into the main room of the library where Luke was walking toward the front desk to retrieve a book for me. "Ok," I said, and then I watched a tall man climb into a book lying on the table in front of him. "No, wait!" But Emma was gone.
There was a little boy in the corner. He smiled at me and jumped into a book on the floor. I was screaming, but I could hear no sound. I pushed against the page of the book that Emma had been holding and tried to get inside.
A woman ran toward the corner. She cast around and looked at me, her mouth moving without the noise of words. I pointed at the ground where the boy had jumped, and she tried to jump too. I was still pushing at the book where Emma was, but it resisted. I could see the woman stomping frantically, and I began to shake Emma's book in my hands. When I turned the page my fingers slipped inside, but Luke had not returned.
The walls and floors were gaining transparency. The bookshelves were hazy, unreal, and I was starting to not be able to feel. The air had stopped flowing. Behind me the woman seemed so far away, and the main room of the library was no longer there. I moved toward her and pushed her off of the book where she was standing. She fell back, and I turned the page and pointed inside before a push to my back caused me to fall into the book I was holding.
The white stillness that engulfed me was so complete that I was sure it was death. But I took a breath, and I stood, finding a steady textured surface. It was paper. I began to run.
Eventually, there came an edge. It was sharp. I hung my head over the side, and then put my left cheek against the page and felt down as far as I could with my right arm. The tips of my fingers found the other edge, and I pulled hard. It began to move upward, and soon I was able to curl it up over my head and then stand so that I could swing one leg over and then the other, and I was on the next page.
Color hit me hard. The color itself was hard. No gradations, no tone, just solid surfaces. The very air here was one dimensional, but it was enough. I must have been on the heavy title page before, but now I had entered the world of the book, and there were no longer edges to navigate. It was a closed system. I shuttered my mind to any idea except that Luke had pushed me in, turned to a page ahead of me and entered as well. Thus, Luke was closer to Emma, perhaps already with her and heading back towards me.
I kept moving past aardvarks, airplanes, avocados; past buffalo, bananas, bouncy balls; past cats, cars, cake. I first heard their voices as I leapt over the trunk of an elephant and dodged a basket of Easter eggs. I called out in answer, running harder. Just past a horse and behind a large jar of honey I saw them both and soon we were holding each other, the three of us again, reduced to skinny lines and flat surfaces, but together.
I still dream in three dimensions, but those visions are impossible to maintain when I open my eyes. I write things down, having found pencil and paper stacked neatly beside a friendly porcupine. I miss the depth that I used to see in Emma's eyes and the heft of Luke's body. I worry that our souls will flatten, but remind myself that even if they do, we are together here, no matter what the future brings.

Christie Wilson
lives in Knoxville, TN. She is currently writing a collection of short fiction and a novel,
Be That Brave
. Visit her at
christiewilson.net
 for links to her other published works.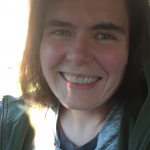 –Art by Kaia Pieters