Inside the Box by Kim Magowan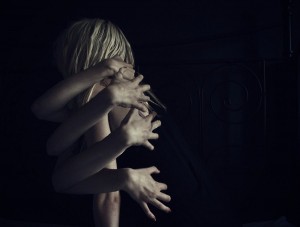 Waiting for you to call me back, contemplating, per usual, the conundrum that is you, it finally dawns. You don't give a shit.
You know how people talk about a lightbulb going off? Well, the lightbulb here is one of those sad, energy-saver fuckers, where the light is amber and spills, more like beer than light. You can see the tangled filament inside the bulb; its curved walls are smoky.
I make myself say it out loud. You don't give, you don't give, you don't give a shit. It's percussive, a hopeless Row, row, row your boat.
I picture myself on a sidewalk. You're walking by in herringbone pants, blue-gray and charcoal. Your shirt is crisply buttoned, and you're holding coffee. You are so Put Together, I want to spring. I want to spill your coffee, I want to rattle you.
But I can't screech, because I'm the pathetic mime on the corner. In front of me there's a tin cup; inside sits one pleated dollar bill. I wear mime make-up. I'm wondering, for the first time in my thirty-one years, why mimes are monochromatic. What is the relationship between their white face paint and black lips and their muteness? Why has it never occurred to me that mimes are clowns with the volume violently turned off?
I gesticulate wildly. My gloved hands spiral like the blades of a fan, I'm trying so hard to communicate.
But you walk by, wearing pants so elegant I have to call them "trousers." If you are conscious in the periphery of your vision of the disturbance that is me, mime-palpitating invisible walls, you are so skillful at ignoring me (my climbing palms; my emails; my texts) that the surface of your coffee as you walk by isn't agitated.
And it "comes to me" (a rocket ship, nose-diving in the cratered sphere of my brain). You are so polite, you can't admit to being indifferent to a woman you are fucking. So you must look me in the eyes when you are inside me; you must (eventually) return my calls, and answer my third or fourth email in a row, and say, "Sweetheart."
But the truth is (this truth is the toffee core of a tootsie pop, perfectly visible; let me mouth it at you with my black, stretched mime lips, as you stroll smoothly by) you never, ever gave a shit.

Kim Magowan lives in San Francisco and teaches in the English Department at Mills College. Her fiction is published or forthcoming in Arroyo Literary Review, Atticus Review, Bird's Thumb, Breakwater Review, Broad!, Cleaver, Corium Magazine, Crack the Spine, Fiction Southeast, 580 Split, The Gettysburg Review, Gravel, Hobart, Hotel Amerika, Indiana Review, JMWW, Parcel, River City, Sixfold, SNReview, Squalorly, Valparaiso Fiction Review, and Word Riot. She is working on a novel and a short story collection.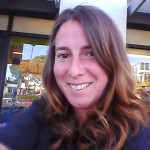 –Art by Kaia Pieters