Gangrene by Mary Kate Crenny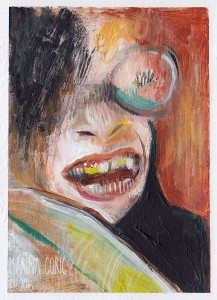 At the foot of his hospital bed,
my skin gets wrinkly in my nitrile gloves.
how can I call a leg a leg? I hold a mirror.
I speak (touch 'em) my instructions.
With cautious fingertips,
He plays his stitches pianississimo
Freshly plucked strings vibrate through synapses,
Singing, "This is where I end now."
Once upon a time (when a leg was definitively a leg),
He asked, "Can I see the wound?"
But-why-now's sweat into my mouth.
Ever-red sprouted through mud and coal,
And, tasting all yellowish-green,
the necrosis settled in my mouth.
His diabetic eyeballs uttered a
kwhis-kwhis-kwhis
I didn't catch.

Mary Kate Crenny is a registered nurse in Philadelphia. She graduated from Fordham University, having earned the Margaret Lamb/Writing to the Right-Hand Margin Prize for Fiction. She also holds a degree in Nursing from Villanova University.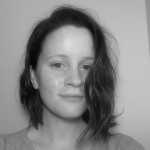 –Art by Marina Ćorić
jordan release date | Aimé Leon Dore x New Balance 550 'Red' — Ietp