Felicia Simion – Artist Profile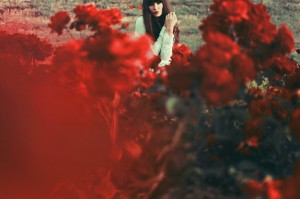 The photography of Felicia Simon exists within the peaceful plane between reality and ecstasy.  Often sensual and rich in color, the subjects in Felicia's world are in constant contemplation of the mysteries of love and life.
Felicia Simon is an artist based in Romania and her work tells a series of rich tales.  While deceptively static, the women Felicia Simon introduces in her work while caught in a moment of repose, are bristling with energy and life.  As beings of love, her figures look inward to their hearts for the abundance they shine out on the world.  There are many introspective stories in this issue and while her photographs are exemplary studies in secular form and beauty it is the thoughts, ideas and implied emotions of her characters' expressions that leave the viewer studying her pieces in longer detail.  Always evocative, conceptually abstract, yet simple, her images are like the polished stones we search for in fiction and poetry.

"Someone once told me that I press the shutter when God wants it pressed. From then on, I felt like photography was something bigger than an ephemeral crotchet, beyond the crust of my soul, brighter than light itself. And so it is. Art has made me a believer, a deceiver, a winner, a loser, a fighter, a thinker, a dreamer, a doer, a goer, and, above it tall, it has made me myself. And I realized we are much more than just a mould; and there is much more to love." – Felicia's Artist statement.
We are ecstatic to share so many of Felicia's photos with our readers in this edition of Literary Orphans and encourage everyone to become followers of her work online.  To see more of her portfolio or contact her professionally, please visit her official photography website, her deviantART profile, or her Facebook page.
Felicia was also kind enough to answer a few questions regarding her photography and inspiration, which you can read here, in her interview with Literary Orphans.
Sportswear Design | Nike Air Max 270 – Deine Größe bis zu 70% günstiger