Featured Artist: J Stimp
J Stimp's photographs exist simultaneously in the real world and within the ether–they capture a moment where you glimpse something more than what's before your eyes. One of my favorite shots of his featured in this issue, is of someone riding escalator. So mundane, so typical, so very everyday for many of us. And yet that moment is caught in a light, in a tone, that harkens to something more. Something deep. You look and look, and start to notice the small things at first. The snow on the rail. The way the figure grabs at their hood. The graffiti on the wall. Then you start to think about escalators themselves–the idea of standing still and descending. J Stimp's street photography has the ability to make us reexamine our everyday lives, it touches at the very core of Literary Orphans Journal and its ethos.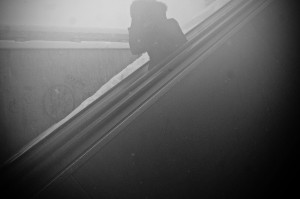 Please check out J Stimp's interview below, as well as his exhaustive work on his Flickr Profile

Interview Questions
What sparked your interest in photography, and when did you know you would pursue being an artist?
I always liked photography as a kid, and I remember dreaming about being a war photographer, or working with National Geographic. But I was always intimidated by the whole field too. My dad was a pretty serious amateur photographer, so I had this fear that I could never be as good as him… that and something about rolls of film, aperture, shutter speeds, and getting shots developed seemed really complicated to me. What finally set me free was when digital cameras came out. When I was a sophomore in college, I took out some of my financial aid money that was meant for books and I bought a 3 MP Toshiba PDR-M65 digital camera. I was the first person I knew with a digital camera. I felt like the coolest kid on the block, and I started taking pictures of everything. Suddenly, I was hooked, and I've never looked back. Since then, I've really been drawn to street, documentary, and candid photography. I love the idea of capturing everyday moments and seeing the beauty in the mundane. I hate posed art, things you can fabricate in a studio somewhere, but I'm obsessed with capturing fleeting moments. I never leave home without a camera.
What other artists and art forms have influenced you and your work?
I don't know who exactly has influenced my work, but I can tell you who inspires me. The photographers who have inspired me the most are probably Sebastiao Salgado, Daido Moriyama, Josef Koudelka, William Klein, and Mark Cohen. When I first stumbled onto Eric Kim's street photography blog, too, that was a huge source of encouragement, wisdom, and inspiration. Though my style is different from his, his passion for the art-form really inspires me.
Can you describe your current artistic process, habits, techniques you have formed?
I carry a camera wherever I go and I take pictures of whatever I find even remotely interesting. I try to be aware of what's going on around me so I can catch interesting things.
Then when I get home, I quickly delete the obviously bad shots. Then I wait a month or so to really look at them again. I don't want to be emotionally involved in the pictures, and I find it takes me about that long before I can disconnect a bit and just heartlessly delete what doesn't work.
While I'm shooting street photography, I've developed something of a personal technique I guess. I usually pre-set the focus to 1m, aperture to F9, ISO to 1600, and let the camera set the shutter speed. I've worked out versions of that setup that work well for bright light, shade, wider shots, and night shots. In case any other street photographers are out there and curious, send me an email and I can give you details. I have nothing to gain from guarding my secrets. Anyway, then I just walk around and shoot without thinking about it too much. Just follow my curiosity.
Is storytelling important in your photography?
For me, photography is all about storytelling. Without a story, a photograph is just something pretty to look at, but with a story, it can communicate a message. I care less about having technically perfect shots with everything clear and in focus and more about communicating emotions via a story. If I think a photograph I took doesn't share a story, that's usually one I don't spread around. Oftentimes, as I look through my photos, if one grabs my attention, I'll ask myself, "What's going on here? What COULD be going on here? How are these elements of the photograph connected to each other? What emotions are present?" Until I can see some sort of feasible story (whether real or invented), I don't feel at peace with a photograph.
What are some of your favorite books, poems, authors?
Among artists, I know it's not the most popular thing to say, but my all-time favorite book is the Bible. Nothing compares to it. I've read it almost every day of my life since I was in college, and it's changed how I look at the world (and myself). God is the greatest artist (look at the world He made!), and the Bible is full of some of the most beautiful poems, epic success stories, and terribly heart-breaking tragedies, and tying it all together is a story of a God who loves us despite our tendency to allow greed, selfishness, destruction, and pride to control us.
Beyond the Bible, I'm kind of a nerd when it comes to books. I love history books, biographies, sociological studies, deep theological works, anything that gets my mind going. I love learning. I never want to stop learning.
Where do you turn for motivation and new sources of inspiration?
I look around at the world and just start taking pictures. Sometimes, if I'm not inspired, I just force myself to take pictures anyway. Usually I'll see something that gets me excited again. Or I'll take photos of my kids. I have 6 of the most amazing little human beings living in my house, so we're never short of photo opps at home! Sometimes, if I'm really lacking inspiration, I'll just stop taking photos for a few days until I remember again that I love it.
What is a project, or theme you are currently working on, or something that is currently taking your attention, that you are aiming to explore in your work?
I'm still trying to figure out who I am as a photographer, mostly just taking pictures of what seems interesting in my city, but I'm in the middle of a project now and am curious to see what comes of it. I noticed I was getting pretty negative about living in a big, busy city (Bucharest, Romania), so I decided to do something proactive about it maybe 6 months ago – I started actively looking for smiley faces in odd places and taking photos of them. It could be a person with a particularly big smile, or a smiley face drawn on a wall, or a shadow or peeling paint in the form of a smile, or even a smiley face made of dog poop (yes, I actually found that one day, made apparently by a very happy dog). As I've been doing this, not only has it forced me to find some interesting things to photograph that I wouldn't look for naturally, but I've started looking at my surroundings in a lot more positive light too. I have yet to show anybody but my kids the smiley face photos. We'll see if it ever sees the light of day or will just be between me and them.
Asics shoes | Netflix 'Money Heist' Immersive Experience Launch , Parfaire