Featured Artist: Claudio Parentela
Claudio Parentela's work is a first for us here at Literary Orphans Journal. While we have featured a piece or two of mixed media art in the past, never before have we featured an artist whose primary catalog was not based in photography. However when I saw Parentela's bright, almost pop-art collage technique, I was hooked. His compositions grapple with body dysmorphia, mass-market advertising, sexual objectification, conspicuous consumption, and numerous other complex societal issues. One of my favorite pieces of Parentela's (Painting 595) juxtaposes a man's angry, jabbering mouth over the body of a woman–the head of the woman is removed: anonymous, absent. Instead we have the face of a man, taking over the whole of her body. The face's masculine yelling (smirking?) mouth placed over her womb. His eyes become her nipples, tattoos along her arms like his popped collar. All throughout the painting concentric circles like so many eyes make us question our own gaze, a gaze interrupted as it interacts with the objectification of the female form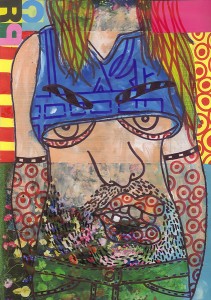 Another recurring motif in Parentela's work is that of the parent and child; often there is a sort of othering, a sort of alienation. No piece demonstrates this quite as strong as Painting 473, in which a literal alien form rests in a man's arms–I would say cradled, if not for the man's dispassionate hands and arms, coupled with his blank stare. He sits before a domestic background of printed flowers conjuring wallpaper or kitchen tile–dressed in a tie, hair coiffed, a dress jacket–as if he was stopped on the way to work. The image calls into question work as a path to family and family as a path to fulfillment.
Parentela's work is a journey into the unnatural, twisting, dark world of our own minds. Please read his bio, interview questions, and visit his websites by checking out the content below.

Born in Catanzaro (1962-Italy) where he lives and works…Claudio Parentela is an illustrator,painter,photographer,mail artist,cartoonist,collagist,journalist free lance…Active since many years in the international contemporary art scene.He has collaborated&he collaborates with many,many zines,magazines of contemporary art,literary and of comics in Italy and in the world…; on the paper and on the web…
E-Mail: claudioparentela@alice.it  — claudioparentela@gmail.com
Web Sites/Social: http://www.claudioparentela.net — http://claudioparentel.altervista.org/ — http://claudioparentela.altervista.org — http://parentelaclaudio.altervista.org/ — http://parentelacla.altervista.org/ — http://www.myspace.com/claudioparentela — http://twitter.com/claudioparentel — http://claudioparentela.tumblr.com/ — https://www.facebook.com/claudio.parentela.1 — http://www.flickr.com/people/49533264@N05/ — http://www.linkedin.com/profile/view?id=6321135&trk=tab_pro —
Art Bogs: http://theextrafinger.blogspot.com — http://foggygrizzly.blogspot.com — http://ladylambandpopsy.blogsome.com/ — http://cparentela.livejournal.com/ — http://elvisinh.blogspot.com/  — http://thethermostatandthegreendragoon.blogspot.com/ — http://diabeticdew555.blogspot.com — http://cosmiccrystalsdirtypigs.blogspot.com/ — http://coward33sneeze15.blogspot.com/ — http://variationsinnortherndegradations.blogspot.com

Interview Questions
What sparked your interest in collage, and when did you know you would pursue being an artist?
-I was born artist of course, I'm an artist, we are all artists, we are born all artists… then the life runs for everyone in a thousand of different ways.
I love freedom and I love to feel free in in everything I do… Art allows me all this .
I drew and I painted and painted only in black and white for 14 years, with rivers of black indian ink and quintals of paper… the transition to the color and to the collage was natural, a natural necessity. The collage has infinite possibilities, it always opens me new ways and worlds,every day. It is like a mirror that encloses many many mirrors.
What other artists and art forms have influenced you and your work?
– I love all the art and all the artists of every era…every artist has a wonderful gift to share. Each artist is a beautiful and unique flower with a thousand petals of thousands different colors.
Can you describe your current artistic process, habits, techniques you have formed?
-I'm totally and proudly a self-taught artist….
… I plan absolutely anything …. I need first all of much and good music …I listen everything ….. then everything happens for magic every time … and every time a wonderful new adventure begins ..I never know anything of what will happen … but everything happens every time, punctually …. the magic begins and I can not stop it nor I want ….. colors, shapes, lines, knots ….they intersect each other and all… everything finds its place … everything goes in its place …. everything goes in another place ….. each image blends itself with the next one … every image quarrels and loves with the previous one .. .every image loosens the knots of the next … all the images dance, play, cancel, merge themselves into a single image.
….. I love to combine photography and collage together….
First of all for a creative natural need … a natural evolution of my being and artistic feeling … a crazy and huge love for the photography… my love for the white and the black ….. my passion for the black indian ink …… the need to constantly to experiment in a free, crazy, anarchic way… my will to be always free, myself … the continuous to mingle myself and to mix styles, ideas, things, people, environments, books, magazines, fashion, comics …. in a single gesture, in a single chaotic confused idea ….. I follow incessantly the flow of my images without restraint, always overcoming my limits and the limits of the medium, of the mediums… always merging all ….. always tainting all, pasting and cutting scenes, photos, collages, colors …. I empty and I fill my mind continually….I continually multiply and I increase my seen countless times with 1000 new and different eyes.
Is storytelling important in your art?
-Sure…a long, twisted, unknown ,mysterious , a never-ending story.
What are some of your favorite books, poems, authors?
-All Pier Paolo Pasolini,Cesare Pavese, Virginia Woolf,Osho, J. R. R. Tolkien, Unica Zürn, Krishnamurti, Sylvia Plath, Franz Kafka, William S. Burroughs, Louis-Ferdinand Céline….and many many others.
Where do you turn for motivation and new sources of inspiration?
-…. My muses and my inspirations …. many many …. Diamanda Galas, Ghedaliah Tazartes, Can, Sarah Vaughan and Nina Simone … Suicide & Alan Vega, Aurobindo and the Mother … my beloved tarots, Kundalini Yoga and Qi Gong , Miss Carolyne, Sai Baba, Krishnamurti, Pier Paolo Pasolini, Virginia Woolf, Unica Zürn, Franz Kafka, Cesare Pavese, Derek Jarman ….. … Vivienne Westwood and John Galliano and Moschino and Miles Davis and Ornette Colemann and Shirley Horn, Mickey Mouse and Asterix and the Sex Pistols …. …. I like the Renaissance painters, the Byzantine icons and the Sacred art and Andy Warhol ,Patty Waters and Joni Mitchell …. Genesis P. Orridge & Thee Majesty …. Coil, Merzbow, Masonna, Terry Callier, The Incapacitans … Frank Zappa, Boyd Rice, Can, Swans, Suicide, Patty Waters, NOT, Lydia Lunch …… Pablo Picasso, Pablo Picasso and Pablo Picasso…oh I love him so much…. Tom Van Der Borght, Alexander McQueen, Marc Jacobs, Alexander Wang, Jean-Paul Gaultier, Karl Lagerfeld …. many underground comics, my books, many many zines, magazines …… my cats,the flowers from my garden … my travels … people …. my friends …. the laughters … so much much more again….
What is the role of community and gallery showings to your growth as an artist?
-Thre is a necessary, essential, continuous exchange obviously.
What is a project, or theme you are currently working on, or something that is currently taking your attention, that you are aiming to explore in your work?
-The ''MUSEO INTERNAZIONALE DEI TAROCCHI''(http://www.museodeitarocchi.net/) has just now published my last tarots deck'' I TAROCCHI DELLA RUOTA INCROCIATA''….I've also finished and other tarots deck''I Tarocchi Della Luna Dai Sette Pentacoli''…and I've started a new tarots deck again in these days….