Fan Mail: a Note on Deborah Harry by Peter Marra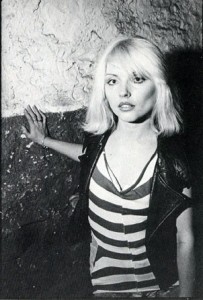 Time: Mid-summer 1976. Place: CBGB, 315 Bowery, New York City. A skinny, artistically frustrated, aimless punk kid clad all in black, sits in the audience, sucking back a warm Heineken, waiting in the claustrophobic smoke soaked venue with the sweaty audience, all itchy for the next act to take the postage stamp sized stage. The fact that he's recently shorn off his shoulder length hair is making him self-conscious. He wants to fit in. The Dexedrine ("black beauties") he bought outside are just starting to kick in, his mind starts racing, the neon taste in his mouth gets stronger. The room goes black, the spotlight bangs on. The band takes the stage. A creature of the night, female in form, steps up to the microphone. Dressed in a red and white French sailor shirt, a  voluptuous figure poured into skintight black denim with a trashy blonde dye-job, bad- girl heavy eye-shadow, mascara and makeup, red full lips, she purrs:
"I saw you standing on the corner, you looked so big and fine. I really wanted to go out with you, so when you smiled, I laid my heart on the line.."
The explosive drums and Farfisa organ summoned via synthesizer kick in. The song "Sex-Offender" (later to become "X-Offender," due to censorship) pierces the night, it's a tune about a hooker's love for the cop who busts her. It was a sound that had never been heard before: pop music ripped from the noir underbelly of America. She has distilled the past and made it her own: The Ronnettes, The Angels, The Rolling Stones, Jan and Dean, Bowie and Roxy Music could be seen in her eyes and heard in her voice, a voice laden with heartbreak and sex, surfing, cars and gasoline. A kaleidoscope ripped from Godard and Kenneth Anger. The kid fights the urge to climb into her lap and die in her arms, morphing into a glam Pieta. He knew she would kiss the sweat and sin off his brow in a speed soaked epiphany-climax. She sings about pain, love lost then found then lost again, giant insects, kung-fu girls, and surfing. The audience climaxes. The show ends, she disappears, later to enter the audience and sit at a table near the stage with her band. The kid cautiously approaches her and musters up the balls to tell her it was a great show. She looks him over with her piercing eyes, stares at him for a second, and says, "Thanks! I hope you're staying for the second set." The kid's heart pounds. She's so very cool, while he is shaking in his pointy black boots like a wet sewer rat.
The wayward punk kid is me. The band is Blondie. The seductive chanteuse is Deborah Harry.
Born in Miami, Florida, and adopted by Catherine and Richard Smith Harry, gift shop proprietors in Hawthorne, New Jersey, the brunette known as Deborah Harry used to say that she felt her real Mother was Marilyn Monroe. She left Jersey and headed for New York to make the big time in various jobs: Play Boy Bunny, Waitress at Max's Kansas City where she met her longtime artistic collaborator and lover Chris Stein, and finally rock 'n roll goddess. After several preliminary bands, Harry bleached her hair blonde and formed the group Blondie, inspired by the catcalls she used to hear as she walked down the street. The group became regulars at CBGB.
Deborah was a creative force in Blondie, not just the lead singer, writing or co-writing many of their hits such as X-offender, Rip her to Shreds, and Dreaming. Along with Patti Smith, Richard Hell, Tom Verlaine and David Byrne, Harry was one of the blazing stars of the burgeoning NYC punk rock scene.
An inspiration to musicians, artists, writers and filmmakers. Her first film was the underground East Village classic Unmade Beds by Amos Poe and she's worked with John Waters and David Cronenberg, burning up the screen in Videodrome. Deborah maintains that in the early 70's she was lured into a car by serial killer Ted Bundy, but luckily escaped. Others have tried to disprove this with hard cold facts, but it doesn't matter, it only adds to her aura.
Deborah Harry became a cultural and fashion icon. A brief intro can't begin to cover all her accomplishments. This orphan was a friend of Warhol and Burroughs, one of the first embracers of Rap, a fan of professional wrestling and of up and coming East Village artists. Forty years from yesterday, Deborah still creates and inspires through her music and her films.
I met her several times after that initial meeting and she was always generous with her time. I doubt she remembered me from one brief meeting to the next, but that's not important. She is so cool and deadly, so sexy and sweet, so punk. A muse for eternity clad in neon and silver.
Hopefully I will speak to her at least one more time.

Orig­i­nally from Gravesend Brook­lyn, Peter Marra lived in the East Vil­lage, New York from 1979 to 1993 at the height of the punk / no wave / art and music rebel­lion.  Peter has had a life­long fas­ci­na­tion with Sur­re­al­ism and Dadaism, he also cites Roger Cor­man and Russ Meyer as influences.
His ear­li­est rec­ol­lec­tion of the writ­ing process is, as a 1st grader, cre­at­ing a children's book with illus­tra­tions. The only mem­ory he has of this project is a page that con­tained a crayon draw­ing of an air­plane, caught in a storm. The cap­tion read: "The peo­ple are on a plane. It is going to crash. They are very scared."
Peter's writ­ing explores alien­ation, addic­tion, love, lust, the havoc that secrets can wreak, and obses­sions, often recounted in an oneiric filmic haze with a taste of the grind­house. He wishes to find new meth­ods of descrip­tion and lan­guage manipulation.
Peter has had approx­i­mately 200 poems pub­lished in print or online in jour­nals such as Caper Lit­er­ary Jour­nal, Danse Macabre, Main­tenant 4 and 5, Yes, Poetry, Lit­er­ary Orphans, The Car­nage Con­ser­va­tory, Car­cino­genic, Cal­liope Nerve, Unlikely Sto­ries and Why Van­dal­ism? He has work in all 3 of the Have a NYC short story anthologies from Three Rooms Press.
Peter has had the following chapbooks published: the ebooks Sins of the Go-Go Girls by Why Van­dal­ism? Press,  peep-o-rama by Hammer and Anvil Press (available at Amazon.com), and the recent print publication approximate lovers by Bone Orchard Press.