Family Album by Jayne Martin
Hair the color of Monroe's, a martini in one hand, a Marlboro in the other, she sits in silhouette, thoughts swimming in a gin haze; her soul, traded for security, now encased in a stucco box. Behind the house, a train clatters by, rattles windows through which she can see no future. Its 5:00 o'clock whistle beckons her, but there is dinner to be made.
Preserved under yellowing plastic, the black and white image holds time in abeyance, her days having long slipped away.

Jayne Martin's work has appeared in Boston Literary Magazine, Midwestern Gothic, Blink Ink, Literary Orphans , Flash Frontier, F(r)iction, Sick Lit, 50-Word Story and Hippocampus. She is the author of "Suitable for Giving: A Collection of Wit with a Side of Wry." Her television writing credits include movies "Big Spender" for Animal Planet and "A Child Too Many" for Lifetime. Find her at: injaynesworld.blogspot.com and on Twitter @Jayne_Martin.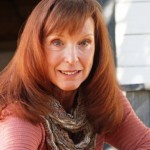 –Art by Ashley Holloway