Evening by Mike Dillon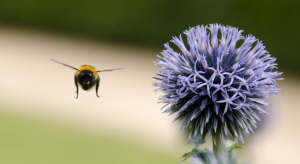 He leans a little forward in his wheelchair to watch.
It's late June. He'd asked his attendant to wheel him to this spot in the garden.  "Well, we're all here right on time," he says, nodding toward the bees.
A few feet away, a half-dozen bumblebees work the small lavender patch in the last bit of sun, swaying drunkenly on the flowered stalks.
"The same old cockeyed tango," he thinks to himself.
The doctors have given him roughly two months to live. He figures he'll make it deep into August. He knows the lavender and the bees won't make it that far.
At eighty-eight, he also knows he has no grounds for complaint. He's outlived his parents by more than twenty years. His three children have made him proud. Most of the five grandchildren are polite. The one who isn't quite, a 10-year-old girl, is his secret favorite.  And, everything is arranged so that he can die in his charming, old home above a salt water bay. The hygienic abasement of a hospital death was never woven into his DNA.
He misses his wife, that's all. A beautiful, athletic woman and an artist, she died two days after she slipped on a log at the beach four years ago.
His attendant, a pleasant fellow in his early thirties, keeps his hands loose on the wheelchair handles, waiting for the request to return to the house.
Finally, shadows eclipse the dwindling suntrap. The bees still work the lavender in the sudden gloaming.
"Time to go in?" the younger man asks. "It's going to get chilly."
"Please bring me my wool blanket. It's on my chair in the library."
"Are you sure? The breeze is picking up."
The old man looks down to the scalloped, darkening bay, but sees no whitecaps. Soon the first stars will come, and the last robin's carol.
His gaze returns to what brought him here. In the despotic progress of dusk, it's harder to make out the bumblebees, but he can still see the lavender stalks swaying drunkenly.
"I'm sure," he says quietly.

Mike Dillon lives in Indianola, Washington, a small town on Puget Sound northwest of Seattle. His latest book is "Departures: Poetry and Prose on the Removal of Bainbridge Island's Japanese Americans After Pearl Harbor," from Unsolicited Press (April 2019).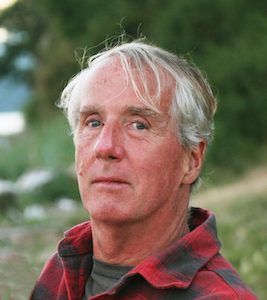 –Art by Dom Crossley — Artist Profile