Domestic Ghosts by Heather Price
A man's wife dies of breast cancer. He remarries. After the new wife moves in, he hears noises in the attic, like someone walking around. He thinks the footfalls sound like Beth, his first wife, but he doesn't believe in ghosts, and so convinces himself he has critters in the framework. An animal removal specialist inspects and finds nothing, not even a termite. It happens again and his new wife hears it.
"It has to be her," she says as she removes pearl earrings from her lobes. He has never told her that pearl was Beth's birthstone, that when she wears these earrings he has a war with memory and his heart feels sick. He watched Beth do this every morning and evening, fussing to get her hair out of the way. When she got sick, he watched her still, enraptured by her every move, but no longer fighting with her hair. Eventually, he could no longer watch her, took them out for her instead. Beth was buried in pearl earrings.
His new wife gets under the white sheets, pulls the flowered comforter up to her chin. She refuses to let him into bed until he checks the attic.
The noise stops when he climbs the stairs, but the air doesn't feel quite right to him. And there's a faint scent of hot glue and vanilla—her scent. The attic was Beth's craft room. She liked to look out from such a height, said it made her feel like a queen. Her hospital bed was here during the last of it.
"Beth," he says, and the white sheer curtains she hung up on the lone window move even though the window is closed. He sits on the floor, runs his fingers through the fibers of the red carpet. This carpet was a fight when they first moved in, but Beth won out in the end. Beth always won.
"You told me you wanted me to marry again."
The curtains swish, back and forth, and he feels a warm presence squeeze his shoulders. He misses Beth something fierce, even though he has a new wife. Nothing can replace your high school sweetheart, a companion of twenty years.
"I love you," he says and knows she just doesn't want him to forget her. He lays down, the carpet cushy and plush and soft on his face.
They stop hearing noises for a while after this, and whenever they start again, he goes to the attic for some time and they stop.

Heather Miller Price is a native of Ashland, KY. A graduate of Chatham University's MFA in Creative Writing program, Heather currently works as an adjunct professor and as a library services assistant. Her work has been previously published in Sawmill Magazine and Fiction Southeast. Heather currently resides in Cincinnati, OH, with her husband.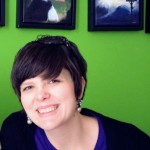 –Art by Kaia Pieters