DNA by Jayne Martin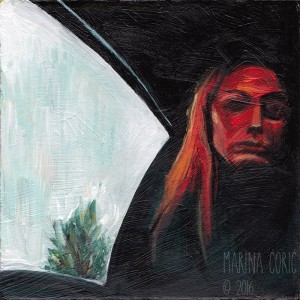 The odor of charred wood hangs in the air as I pick through the remains of the old garage. Most of the stuff had been Mama's. Rusted out cans that had once held paintbrushes and tubes of bright acrylic promise; stacks of canvases unfinished or unfilled, all of it now ash. Mama had fancied herself an artist, a sculptor, anything but a Peoria housewife with a gaggle of kids.
"I can't breathe," she'd say and then walk off into the woods behind our house, disappearing for hours.
"Mama's just a little bit sad today," Daddy would tell us.
Other times we'd come home from school to find her dressed in her fanciest taffeta, hair a mass of wild blond curls, hips swishing beneath the stiff fabric as Elvis blasted from the record player. How she loved Elvis. We'd all join in and Mama would be in a real good mood for a time. But then she'd take to her bed again, her weeping forming a pool of sorrow at our feet.
Daddy would caution us to be real quiet, "Mama's having one of her spells."
"Josie, is Mama a witch?" Toby once asked. Toby, the last of the babies. Mama never slept with Daddy again after his birth. "Is she going to put a spell on us?"
"Quit talking stupid," I said.
But I could see the fear in his eyes, the same fear I now catch sight of in the eyes of my own children.
Glass crunches beneath my boot. Sticking up out of the rubble is a singed picture frame. In it, a drawing she had done: A self portrait, crows tearing at her bare breasts. I recall seeing it as a child and how it had frightened me. My thumb catches on a splinter of glass and the frame falls from my hand. I taste the blood of my mother.
From our porch, my son calls to me, but the call of the woods is strong.

Jayne Martin is a 2017 Pushcart nominee and the 2016 winner of Vestal Review's VERA award for flash fiction. Her work has appeared in Boston Literary Magazine, Spelk, Literary Orphans, Five-2-One, Midwestern Gothic, Shotgun Honey, MoonPark Review, Blink-Ink, Cleaver, Connotation Press and Hippocampus among others. She is the author of "Suitable for Giving: A Collection of Wit with a Side of Wry," and lives in Santa Barbara, California. Find her on Twitter @Jayne_Martin.

–Art by Marina Ćorić