(De)Composition: William Basinski's The Disintegration Loops by R J Dent
Editor's note: you can follow along to R J Dent's critique below and listen to William Basinski's The Disintegration Loops on the musician's bandcamp.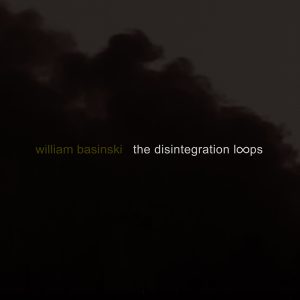 I am aware that in writing this piece in April, 2020, I will be referring to obsolete forms of recording equipment, as well as redundant methods of composition and recording that were being used in 1982. In fact, it's very likely that some readers will not know what I'm writing about at all. With that stated, I'll proceed.
In 2001, New York based composer William Basinski realised that music technology was changing rapidly. Prompted by this realisation, Basinski began reviewing his old tapes and found a short pastoral composition from 1982 that he'd forgotten about. Intending to transfer it to digital format for preservation, Basinski set up his digital recording equipment and an old reel-to-reel tape player and put the tape reel on. He then pressed record, and set the old tape running.
The passing of time had weakened the magnetic tape and decay had undermined the tape's stability. Basinski immediately noticed that the music's sound was subtly changing due to the gradual deterioration of the magnetic tape each time it passed through the tape head. The deterioration was significant sonically, with the recorded music affected by pieces of the ferrite that coated the magnetic tape detaching from the plastic backing and falling off. Magnetic tape stores information on pieces of metal affixed to a ribbon. That metal is the music, and the music was crumbling.
Making the decision to capitalize on the changes happening to the sounds as the tapes turned to dust, Basinski resisted the impulse to stop the recording; instead, he allowed the loop to continue playing, listening to it as it deteriorated further, with increasing gaps, crackles, silences, scratches, and a whole host of new sounds being created in his short pastoral piece. Gradually, but progressively, the decomposing tape broke down Basinski's pastoral music into a ghost of its former self, so that it became more and more spare and fragmented as the recording progressed.
Within that collapsing loop, the music transformed from quiet pastoral piece into a gently shifting, almost cavernous drone, becoming more sonically blurred and fragmented as the tape self-destructed. It ended as a solemn and dignified piece of music; a beautiful and romantic elegy to decay.
Basinski completed the recording of that first piece and listened back to the 'clean' digital recording of what he named The Disintegration Loops. Liking what he heard, but still not totally satisfied with the overall sound of the piece, he added a reverb effect, which further enhanced the spatial aspects of the recording. The Disintegration Loops now sounds as though it was recorded in an abandoned cathedral. It is a haunting and soul-rending piece of music which, as it plays, decomposes in the listener's ears.
The result is also a piece of music that could not be composed (or decomposed) in the same way today in 2020. Tape recorders are obsolete; the reel-to-reel tape recorders used by Basinski in the 1980s are no longer manufactured and approximate second-hand reel-to-reel tape recorders cost over £500 on ebay. A reel of magnetic tape now costs £60, and is made of different materials; magnetic tape from the 1980s used a blend of polyurethane and polyester as backing material which tended to absorb humidity when in storage and would, over a period of time, partially deteriorate.
It is therefore impossible for anyone now to recreate William Basinski's music using the same methods, techniques and equipment. It would be impossible to duplicate the original pastoral piece of music, or the recording environment, or the decades of storage needed to recreate the exact state of decay which the tape would need to be in to replicate The Disintegration Loops. Given current methods of recording, it would be impossible for William Basinski's The Disintegration Loops to be created and recorded today.
Ironically, because The Disintegration Loops was recorded using state-of-the-art digital recording equipment and methods, it can, in its current and immutable form forever be duplicated and disseminated without any lessening of audio quality. It cannot disintegrate. It cannot decompose. In twenty years time, it will sound exactly the same. Technology's rapid evolution from analogue to digital has ensured that no composer can any longer imitate or utilise William Basinski's original working method; it has also ensured that The Disintegration Loops is a recorded piece of music that serves as an elegy for the death of its own recording method. In this, and in many other ways, The Disintegration Loops remains a unique and inimitable piece of music.

R J Dent is the author of Myth, a horror/fantasy novel; of Gothiques & Fantastiques, a collection of Gothic stories, and of Deliverance, a controversial Gothic novella of infanticide and cannibalism.
As a renowned translator of European literature, R J Dent has published modern English translations of Charles Baudelaire's The Flowers of Evil (2009); and of Le Comte de Lautréamont's The Songs of Maldoror (illustrated by Salvadore Dali) (2011). He has also translated the ancient Greek Poems & Fragments of Alcaeus into modern English.
He has also produced English translations of major works by Aragon, Apollinaire, Breton, Éluard, Heine, Masson, Maxa and Rollinat. The Blood Delirium: the Vampire in 19th Century European Literature contains several significant works translated by R J Dent.
R J Dent is the author of Moonstone Silhouettes, a poetry collection. He has introduced and edited a new version of Christopher Smart's Jubilate Agno, and he is the author/translator of several chapter of Sade: Sex and Death, a non-fiction study of the Marquis de Sade.
His poems, short stories, novellas and essays continue to appear in numerous magazines and journals, including Writer's Muse, Acumen, Inclement, Orbis, Roundyhouse, Chanticleer and Philosophy Now, to name but a few.
R J Dent's literary influences are William S. Burroughs, Anthony Burgess, Anna Kavan, J.G. Ballard, Tarjei Vesaas, Angela Carter, Samuel Beckett, Ayn Rand and Ray Bradbury.
Contemporary authors that R J Dent admires include Jeremy Reed, Pascale Petit, Stephen Barber, and Philippe Djian.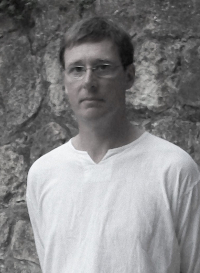 –Art by Mick McClelland