The Dark Mysteries Surrounding My Death by Thomas O'Connell
When the time comes for me to die, if falling gently, eternally asleep with a good book draped absently across my chest is not an option, I hope to be murdered by the Illuminati. My death may very well appear to be a natural occurrence – or an unfortunate accident – but look deeper, I beg of you.
I am counting on my friend Bill, who has some experience making corporate videos of conferences and such, to put something together and post it to YouTube. I can't imagine how my demise could possibly propel the illuminati's agenda, but I am sure that if someone looks into my killing, clues will make themselves known. The Illuminati seem to love to sprinkle symbolic guideposts, which should bring some clarity and meaning. Some of the clues may turn out to be red herrings, but somebody is sure to locate a dollar bill inscribed with my initials.
There may be clues in the school photograph of my first grade class, the three rows of children lined up against the blackboard with Miss Kilgallen, and her flaming red hair, towering over us. If you look closely at the photograph, though, you may notice that next to the limp American flag is a poster of an owl in flight.
There is another Photograph, taken when I was thirteen on my eighth grade field trip to Washington DC. A group of us boys, bored while waiting to get inside the Washington Monument formed a human pyramid, with diminutive Lucas Sullivan beaming at the top. One of the chaperones snapped the picture before the structure collapsed, with all of us landing in a jumble on the ground, where I got a shiner that darkened my left eye for a few weeks.
Somebody, undoubtedly, will even examine the lyrics of the band I was in while living in New Haven during the early 1980s (not quite ancient times, but seemingly far away now). We were called Three in the Plot for some reason that escapes me now. I played guitar and sang on a few of my own songs, like one titled Triangle Eyes, Three minutes and twenty-two seconds of jangly guitars and intentionally obscure lyrics, which was kind of popular at our shows. Somewhere, there even exists some video footage, shot at the time, as an attempt to get ourselves on local access tv. I haven't seen that clip since we filmed it, but as I remember it, it was all checkerboards and make-up, the three of us stumbling around High Street, where the drummer and I lived at the time. As I recall, we had intended to record an album, Barbarian Times, which never came about.
Once, before I was born, my mother was driving home on a November afternoon with my older sister Helen in the backseat. While approaching the bridge on Judge's Hollow Road, she came upon a car, a Volkswagen Beetle as the story is told, in flames. Nobody was inside the car. Mother looked over the guard rail into the river below, swollen recently by heavy rains. She saw no-one but did spot an open umbrella floating downstream. The umbrella had a monarch butterfly print. My mother hopped back in her car and drove the rest of the way home. Setting my sister down in front of the television with a cup of apple juice, she called the volunteer fire department from the extension phone in the downstairs den.

Thomas O'Connell is a librarian in the Hudson Valley in New York. His poetry and short fiction has appeared in Jellyfish Review, Elm Leaves Journal, The Los Angeles Review, and Blink-Ink, as well as other print and online journals.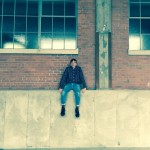 –Art by Magdalena Roeseler