Cold Hard Cash by Grant Faulkner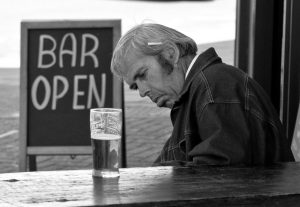 His method of saving money was effective. Roll up the bills, stick them in a can of water, stick it in the freezer. That way he'd be forced to think before he spent anything. Think while the ice thawed, think while the money dried.
And so Trudeau—True they called him—saved $5,000 to marry Donna May Anderson, who had grown up on the farm next to his parent's farm five miles outside of MacGregor, Iowa. Aged 23 to his 42, she was the first woman he'd met who would put up with his ways. His coon hunting, his long forays into the forest to hunt morels, his proclivity to pick up fresh road kill and skin it for the pelts. Trudeau wasn't one to let things go to waste.
He thought he was turning the corner into the life that others had, a life of togetherness, if not happiness. He planted some geraniums in the front yard, painted the mailbox red. He grew a Wyatt Earp mustache to distract from the healed pockmarks that ran up the sides of his cheeks. He tried to remember to wash his hands every day.
Donna's friend Patty asked her what she could possibly see in him, but Donna didn't know how to describe his burly grace, how his face broke into ripples of laughter like a child when they watched Roseanne together. They set a date to get married in June, but Donna couldn't wait for the wedding. She bought bath mats and a set of matching towels from the Walmart in Dubuque to gussy up Trudeau's bathroom. She kept her knitting basket next to his couch, and soon the refrigerator was stocked with the yogurt she liked for breakfast. She forbid him from chewing tobacco inside. She threw out his t-shirts that had holes in them.
He liked to listen to her hum while she washed the dishes. The ruckus of her hair. Her tiny, protruding stomach. He watched her spoon grape jam into her mouth at the kitchen table. He stared at the galaxy of freckles on her cheeks as if looking for a pathway through the stars.
But it wasn't to be, wasn't to be. One night Donna got into the wrong car with the wrong driver on a cold snowy night, and Trudeau was left staring at a freezer full of coffee cans, hearing only the sound of his dogs barking outside.
The black trees clawed at the grey sky, hummocks of brown earth undulating among the chops of icy snow. The planet looked lifeless, incapable of producing anything green. His weathered old barn suddenly looked as if it might dissolve into the earth.
"The one guarantee of life is that your ice cream will melt," his father had told him. His method of drinking was effective. $5,000 worth of drinks. He drank to extinguish. He drank to enflame. And so it went. Thawing, drying, and drinking.
It wasn't just that he'd been in love with Donna. It was that he'd wanted so much to love.
Such a thing doesn't get mentioned at a funeral. The bartender at Rooster's told how he said hello and good-bye to everyone who walked in or out of the bar. "A polite man, a man who never complained," he said. His neighbor Franklin told how Trudeau had taught him how to set traps for muskrats. "He was a man who was generous with his talents, a man who liked to help."
Only a dying man can tell how much time he has left. The night before Trudeau died, he had a dream about going back in time, before Columbus, and making love to an Indian princess. He tried to take consolation in the constellations, but now the stars seemed randomly tossed in the sky, as if he was looking through a broken kaleidoscope. He wondered what the world would be like if generals despaired of their triumphs, if preachers doubted their faith, if doctors questioned what healing really meant.
"When there's nothing at all in one's pockets, something has to happen," he said as he walked out of the bar that last night.
He had just wanted to be seen and heard. He had just wanted to feel as if he belonged. If his body hadn't gotten snagged on a tree limb in the river, no one would have ever found him.

Grant Faulkner is the Executive Director of National Novel Writing Month and the co-founder of 100 Word Story. His stories have appeared in dozens of literary magazines, including Tin House, The Southwest Review, and The Gettysburg Review, and been widely anthologized. He's published a collection of 100-word stories, Fissures, and served as co-editor of Nothing Short of 100: Selected Tales from 100 Word Story. His essays on creativity have been published in The New York Times, Poets & Writers, Writer's Digest, and The Writer. He recently published a  book of essays on creativity, Pep Talks for Writers: 52 Insights and Actions to Boost Your Creative Mojo.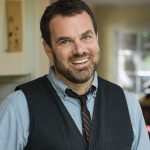 –Foreground Art by Steven Gray
–Background Art by Giuseppe Milo