Cheering Sugar Up by Devin Kelly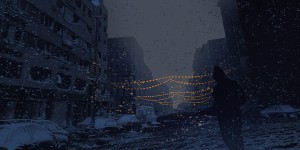 Ronnie took Sugar by the hand and led him outside. Something happened to the stars. They began to fall. Each one, a little twirl and a pirouette, hair flicked in the breeze, nipped out the dark scalp of night, and then descending.
You see, Sugar, it ain't all that bad, Ronnie said.
I don't know what you mean, Sugar said.
Me neither.
When Sugar was sad he did the dishes. He wiped them with a rag until they speckled and shone. Then he spat on the clean ones and found cause to wash them again. Outside, he thought of the pint glasses he and Ronnie stole from bars and imagined them fogged up with fingerprints. He wanted to clean them again.
Look at the stars, Ronnie said, they are falling.
They could be bugs, Sugar said.
They could be.
Somewhere a pup howled and somewhere a pup probably shat. Last week Ronnie took Sugar out and bought a stranger a drink to see if she could get Sugar to smile. She clamped two teeth around a long hair in Sugar's stubble and yanked it out of his face.
Ow, Sugar said.
Don't tell me that didn't do nothing for you, she said.
But Sugar didn't say yes or no. He put his glass down and didn't see how it glowed blue in the unfettered haze of the television and went to the bathroom and threw up all over the sink, old potatoes barely chewed and bits of carrots and brown bile. And then he cleaned it up with toilet paper and hand soap. The only time he thought there was a heaven was when he jerked off at night and believed his grandmother up there watching him, a finger in the air, saying no, no, no.
No, Sugar, his grandmother had often said.
The stars fell still and Ronnie held Sugar's hand for a time immeasurable. No one else was in sight to see what might've been a miracle. The pup quit howling, and Sugar imagined it bending to chew grass like a cow, munching and huffing and not dreaming. He loved cows, Sugar did, their ears waving wayward and their eyes at once recognizing and never recognizing you, how, in front of one, you could be both a stranger and a best friend. Once, Sugar's mother said look up at the stars and know we are both looking at the same sun and moon. Each star fell like a person leaping off a building into nothing, leaving a trail of white, and Sugar thought of souls leaving bodies.
They're prolly just bugs, Ronnie said.
Sugar wanted to kiss someone with just his lips, no tongue. He wanted to press against her with just lips and press a little more and press a little harder until all the air between them was gone. The universe was big, he knew, but each star took with it a little bit of light and soon, he knew, there would be nothing. That's what people said.
It's a big world, Sugar, they said, there will be others.
But the dirt loosened as the pup plodded toward them and soon it was just Ronnie and Sugar and the pup and the ember trails of stuff falling through the sky like burning arrows or tall tired men flicking their finished cigarettes in graceful arcs away. Heaven, Sugar thought, was a song she had sung to him as they fell asleep. It was an old Irish ballad and he would never remember the words and what was there to hold on to but the knowledge that there were good things he would never remember good or well enough? Heaven was as fleeting as that. Heaven was falling all around Sugar. He put his hand toward where he thought the pup lingered and felt a wetness and a warmth. Ronnie's palm sweated into his other hand. He imagined what it would be like to be crucified. He hoped, if he ever was, she would walk out of the dark starless night and sing a song to him as he died.
Yeah, Sugar said, just bugs.
Inside, the pint glasses stood and teetered and rattled and chimed.
Wipe us clean, Sugar imagined them saying. No. They were singing.

Devin Kelly earned his MFA from Sarah Lawrence College and co-hosts the Dead Rabbits Reading Series in New York City. He is the author of the collaborative chapbook with Melissa Smyth, This Cup of Absence (Anchor & Plume) and the forthcoming collection, In This Quiet Church of Night, I Say Amen (ELJ Publications). He has been nominated for both the Pushcart and Best of the Net Prizes. He works as a college advisor in Queens, teaches poetry at Bronx Community College, and lives in Harlem.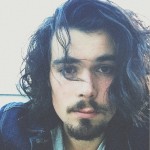 –Foreground Art by Helen Norcott
–Background Art by So-Ghislaine