Chalkboard Tally
by Jennifer Chardon
My landlord just emailed, he says he won't give my thousand-dollar bond back because of the chalkboard wall.
The day Evan and I painted it we were celebrating. A lit journal wanted to make me their featured artist. It wasn't even a paid gig. Evan bought me the paint as a congratulatory gift. When we finished he set an alarm for three hours. Let's watch paint dry, one of us suggested. The other made tea.
We sat with our backs against the kitchen cabinets discussing the future as if it were a thing we'd do together. I was nearly thirty. The clock was ticking. Two hours and forty minutes.
We'd never talked about marriage or kids before that. Over peppermint tea we agreed we didn't want to have children. We didn't want to bring a new life into a suffering world. Maybe we could adopt later in life, when I got better. We thought maybe we would save a life.
When the alarm went off we each pulled a stick of chalk from the giant box of Crayola. We both got blue and held them next to each other. Two blue lines. The sign was right there. We discovered the wall didn't turn into a chalkboard. Nothing really happened in those three hours. I threw my chalk at it and blamed Evan for buying the cheap motherfucking stuff. He didn't try to calm me down. Apparently he'd done that too many times already.
I put my hand on my swollen stomach, wishing I could kick back. Instead, I hit forward on the email and type in Evan's address. I write you owe me a grand in the subject box.

Jennifer Chardon is a writer with secret dreams of also becoming a comedian and/or hairdresser. She is currently at work on a novel, Chasing Summer. The title will probably change. Jennifer has spent much of the last five years backpacking, journal writing and staying up late. Her last one-way ticket brought her to New York City where she now finds herself refusing to leave. Find her blog at jenniferchardon.com.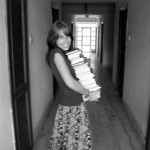 –Art by Bostjan Tacol