Boys Who Have Cars
by Mike Mulvey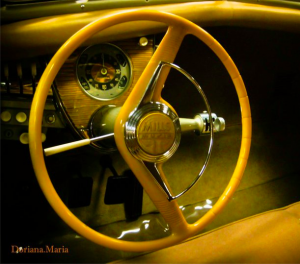 There's a Big Betty in every young man's life. A woman who initiates him, makes a man out of a boy. Most times it's a girl who's been around. Experienced girls who go out with boys who have cars.
Sometimes it's an older woman. A lonely wife deserted by her husband. In the city housing projects where I lived there were many lonely women. And then there were girls like Betty, the daughters of those lonely women.
I met Betty one summer night when the air was so heavy you could almost reach out and grab a handful. It was too hot to do anything but just hang out, bitch and bullshit.  Frankie Valli and The Four Seasons were on The Ed Sullivan Show, but our apartment was like an oven.
So I hung out with my buddies, Joey, Jimmy, Gary, Marty and Robbie, on the front steps our apartment building watching the cars go by and bitching about things like our stupid teachers and our stupid parents.  But mostly we talked about girls and we talked about cars. And we talked about what we were going to do when we turned sixteen, old enough to get a license, drive a car and go out on dates . . . with girls who went out with boys who had cars.
My transistor radio sat next to me on the step. I had one ear tuned to my buddies and the other to Murray the K on 1010 WINS. Every night at seven Murray opened his show with, "Hello all you submarine race watchers out there." At first I didn't understand what Murray meant, about submarines and racing, until Marty explained it to me.
"He's talking to the couples at the beach making out in cars. They ain't watching submarines, if you know what I mean."
"When I get a car I'm taking Janice Dudley to the drive-in," said Gary.
"Janice is a tease," said Joey. "I got her up on the roof and she wouldn't even let me put my hand up her shirt."
Everyone wanted to take Janice Dudley up to the roof of our apartment building. Ever since that day at the beach when we all saw down the front of her bathing suit. She was wearing her older sister's one-piece. When Janice leaned over, grabbed a bottle of suntan lotion and slowly mouthed the directions on the bottle—lingering long enough for all of us to get a good look at her budding breasts and cherry-red nipples—we all got hard-ons. I swear I saw a smirk on her face.
Little beads of sweat gathered on my upper lip and my cheeks got hot. Jimmy rolled over, buried his hard-on in the sand, stared out at Long Island Sound and just waited for it to go away. I walked up to my waist in the cool water and thought of Mrs. Lupinacci, my 8th grade social studies teacher. Her face was enough to run a buzzard off a dead horse. Gary moaned something, grabbed his towel and ran to the changing rooms by the concession stand. We all knew he wasn't going there to change.
Father Vincent warned us about 'touching' ourselves; "It's a sin," he said, "and God's watching."  Later, John Hogan explained to me what 'touching' yourself meant.  Even though we were warned that it was a sin and we shouldn't do it, we touched ourselves anyway and hoped God was busy keeping tabs on other, more serious sinners, like burglars and politicians.
"My father told me he'd let me drive the Buick when I turned sixteen," said Joey, his voice trailing off as he watched a convertible full of laughing girls drive by. "But only if I stayed outta trouble." Joey got caught trying to heist a tube of Brylcreem from Jessup's Pharmacy, but his father talked the pharmacist out of calling the cops. As they left, his father gave Joey a sharp dope slap to the back of the head, so hard it made his eyes cross, Joey said.
"I wanna take Donna DiChara to the drive-in when I get my license," said Jimmy, picking at something stuck to the sole of his sneaker. "Has she got a rack on her or what?"
"Another tease. Besides, she already has a boyfriend," said Joey, combing his hair. "Al, the guy with the Ford. If he sees you even looking at Donna he'll beat the shit out of you. He works in the garage at Sears changing tires."
"If Donna's father finds out she's been to the drive-in, he'll rip Al's friggin' head off. Donna's father was in the paratroops during the war."
"My mother made my brother Steve take me to the drive-in one night," said Marty, fondling his bottle of Coke. "Boy was he pissed. He said she did it on purpose so I could keep an eye on him and his girlfriend, Nancy. She didn't trust the two of them alone, especially after the girl in apartment D-34 got pregnant. Steve called me his little Trojan. I wasn't sure what he meant until I remembered that a Trojan is a rubber."
"We didn't even get through the cartoons when he hands me a buck and tells me to get lost. 'Go get some popcorn or something and don't come back for an hour.' So I stood around the register at the concession booth munching on popcorn and watching the girls go by 'till the manager told me to move along."
"I walked around for awhile kicking empty beer cans and looking in cars at the couples making out. The cars in the last three rows looked like they were empty until I noticed they were rocking up and down. When I got closer I thought I heard people praying or something. I looked in one car and some guy popped up and asked what the hell I was looking at.  He told me to get lost or he'd kick my ass."
"So I wandered back to my brother's car hoping I'd catch them doing it and I could tell my mother, but he and Nancy were just sitting there, watching the movie. When I got in the back seat, though, I noticed a smell, like somebody had been working out at the gym. The movie was lousy. Something called 'Breakfast at Tiffany's.' I fell asleep. My brother woke me when we got home."
"You caught someone doin' it?" asked Gary. "Did you see anything?"
"I don't know, it was dark, and the windows were fogged up. I saw some skin, but I didn't know who it belong to."
We talked well into the night about what we'd do at the drive-in and who we'd do it with when we turned sixteen. After awhile the discussion trailed off and we just sat there, watching the cars go by. It was getting late, the night had cooled off enough to chance sleep, and the party began to break up.
"I'm bored," said Joey, standing up and stretching. "I think Bonanza's on TV. See ya tomorrow."
"Yeah, I gotta get home before my mother kills me," said Jimmy.
"My father's probably passed out by now," said Gary.  Marty got up, brushed his hands on his pants, said, "See ya," and took the elevator to the fifth floor where he lived with his mother and older brother, Steve, leaving me, Robbie, and Murray the K alone on the front steps.
Out of the blue, Robbie, who had nothing much to say all night and who seemed content just watching the hordes of moths endlessly circling the street light across the way, says to me, "There's a girl in Building G who does it . . . and you don't have to take her to the drive-in." He told me her name was Betty. He called her Big Betty, he said – but not to her face – because she was, well, a big girl. In every way. He didn't know her last name, or even how old she was  . . . just that she put out.
"Come on, I'll introduce you," said Robbie with a slight smile.
"What if her parents are home?" I asked. Robbie told me Betty had no father and her mother worked nights. Every night. "She probably works at an all-night diner or something," said Robbie. "I've never seen her."
"How'd you meet Betty?" I asked.
"Tony brought me over one night and introduced me to her."
"Alright . . . let's go," I said, standing up. Already my knees began to shake and my cheeks began to burn. I'd never been introduced to a girl who put out before. You know, one of those girls who went out with boys who had cars. But Robbie said you didn't need a car to meet Betty.
Robbie and I walked over to Building G and took the elevator up to the fourth floor.  "She lives in G-43," said Robbie. When we got to Betty's apartment, Robbie knocked and a young girl answered. She was wearing a man's pajama top and looked to be around ten or eleven.
"Is Betty home?" Robbie asked.
"She's in her room with Tony," the girl said in a disinterested tone, like she opened the door to strangers all the time. She let us in, closed the door and went back to the dark living room where she was watching TV. The light from the TV shone on a coffee table covered in Swanson TV Dinner containers and empty aluminum trays filled with chicken bones and other leftover food.
            From the hall I could see into the kitchen. The table and sink were piled high with dishes, and the garbage can overflowed onto the floor. The smell reminded me of the dumpster behind Cipriano's Restaurant.
Robbie led me down a short hall to a room. Without knocking, he opened the door. It was dark but we could hear movement and the sound of heavy breathing, like people were wrestling. Robbie turned on the light and there was Tony, lying on top of Betty, humping away.
That's when I understood why Robbie called her Big Betty. She looked like some of those women in the paintings we saw on that field trip to the Metropolitan Museum of Art in New York City. "Reubenesque' is what our art teacher, Miss Burnett, called the naked women in the paintings. When our faces turned red, we guys moved on to other paintings. Gary ran to the men's room.
Tony was fifteen like us but he was a little guy for his age. Lying there on top of Betty, he looked like a rat humping a loaf of Wonder Bread. "So this is how a girl gets a reputation," I thought. As I suspected, there was more to it than just going to the drive-in or the beach and wrestling in the back seat of a car.
Robbie and I stood there and watched as Tony kept humping and pumping, paying us no heed. Betty lay there with her head back and her eyes closed, breathing heavy like she was running a race.
I could tell when Tony was done; he let out a little moan and collapsed on Betty like he'd been shot. His body glistened with sweat. He just lay there until Betty gave him a little shove and told him to get off her.
I thought the two would be embarrassed with Robbie and me standing there watching. I knew I was. But no. Tony just put on his clothes while Betty combed the knots out of her hair.
Betty made no attempt to get dressed or hide her huge tits. She turned to Robbie and me, gave us a half-smile and said "Hi.' She just sat there, naked, combing her damp and ratty hair. My face burned and my dick fought my pants. I'd never seen anyone, you know, doing it before.
When Tony was finished dressing, he smiled and asked, "Who's next?" Betty wasn't at all pissed that Tony was trying to pass her around. In fact she looked like she was just warming up. I looked at Robbie and he looked at me. For a minute I thought he wanted to play rock, paper, scissors to see who'd go first.
"Go 'head. I can wait," I said, backing out of the room. I went to the living room, moved some wrinkled clothes from a chair, brushed the cushion with my hand and sat down. Betty's little sister was still watching TV. She paid no attention to me.
After awhile I lost my nerve, got up and said, "I have to go." Betty's sister said nothing. Didn't even look my way. I walked out of the apartment, carefully closing the door behind me, and walked home.
That next night, I went back to Betty's apartment. Alone. I was hoping she was alone too. I was drawn to Betty like an ant to sugar. More like a moth to a flame. I knocked on the door. This time Betty answered. She was wearing a short, see-through nightie like she was waiting for me. But already I knew she probably would she have greeted anyone who knocked at her door the same way. I didn't care.
"Hi. I was here with Robbie the other night. You were . . . with Tony," I said in a shaky voice. My face burned. My mouth went dry and my legs shook. I was starting to feel a movement in my pants. A movement I'd been familiar with ever since I turned thirteen and reached puberty one night in my sleep – "It's called a wet dream," John Hogan told me.
"Yeah, I remember you. Come in," she said with no hint of emotion. Betty closed the door, turned and walked to her bedroom. Her little sister was sitting in the living room watching TV in a nightie that resembled a junior version of her big sister's. Swanson TV Dinner cartons still littered the coffee table and the kitchen still reeked.
I followed Betty to her room. She closed the door and sat down on her bed. The underwear that lay around on the floor and on her bed from my last visit still lie there. Her closet was open and looked like it had puked up a load of clothes.
I sat down next to her. I'd forgotten I'd brought my transistor radio with me. Betty took it from my shaking hand, extended the aerial out all the way, turned it on, tuned to Murray the K. and placed it on her nightstand. Sam Cook was singing "Twisting the Night Away." Betty got up, turned off the light, and sat back down next to me. Without a word, she kissed me. Not passionately, or with any feeling, for that matter, but like she was saying, "No need for small talk, just get on with it."
She lifted the nightie over her head and tossed it on the floor. Her skin was so white it made snow look gray. I put my hand on her leg, up high where it had never been before. Suddenly she lay down on the bed.  My dick felt like it was about to explode.
I wasn't sure what I was supposed to do next – and Betty was no help –  but I worried that if I waited one second longer I'd fill my underwear with cum. I quickly pulled my pants down around my ankles and climbed Mount Betty. I poked around until I found a hairy wet crevice and shoved it in. Then my dick took over. It had a mind of its own that night. On the radio, Gene Pitney crooned, It Hurts to be in Love . . .
It only took three pumps before I unloaded what seemed like a lake-sized load of warm liquid in, on, and around Betty. I was like a runaway fire hose. Betty pushed me off, sat up and bitched about the mess I'd made. She grabbed one of the wrinkled shirts that lie on the floor, wiped herself and blotted the puddle I'd left on her bed.
When she was done cleaning up my mess, she shot me a disgusted look and threw the soiled shirt on a pile of musty clothes in a corner. I lifted my shirt and wiped my sweaty face. Suddenly the room felt close. The air was stagnant and ripe, like an overflowing laundry hamper. My stomach churned. I wanted to run.
Without a word or even a "Thank you," I pulled up my pants, walked out of Betty's room and out of that foul-smelling apartment. I suddenly realized that I'd left my transistor radio on Betty's night stand, but I wasn't about to go back and get it. She could keep it.
As I walked home, feelings of disgust fought with feelings of satisfaction. "Jesus, that felt good," I said out loud. Betty had real tits, the kind you saw on the women in Playboy. And, unlike the other girls I'd been with, Betty didn't care where I put my hand.
The feelings of satisfaction also fought with feelings of guilt instilled in me by the sisters at Saint John's.  My head reeled. In my head I asked God to forgive me and promised I'd never do it again. But I knew I would. It felt too good. I knew that when I turned sixteen I'd get my license and take girls to West Beach or the Starlite Drive-in.
When I got home I filled the bathtub, climbed in and tried to wash away the guilt  . . . and the sin  . . . and Betty's sweat . . . and the smell of that house.  I scrubbed away at my crotch and any other place where her body had touched mine.
As I toweled off, I looked at myself in the mirror. I looked different, somehow. I felt different. Like one of the guys who had cars . . . only I didn't have a car. From now on I'd sit on the front steps late at night and just smile while my buddies talked about what they were gonna do when they got their license.
The following summer I turned sixteen, went to the DMV, took the test and got my license. My uncle gave me his old '56 Chevy for making the honor roll. I hated school but I wanted that car so bad I conjugated French verbs 'till I was ready to puke. It was the 'A' in wood shop that did it, though. I struggled with Algebra and French, but give me some pine boards and a hammer and I'll make you a spice rack in no time. I had a way with wood.
"It burns oil but the radio works," my uncle told me when he tossed me the keys. There was rust around the headlights and a big dent in the rear bumper where a truck backed into him, but I didn't care. It had wheels.
Just before Christmas, I met a girl at a dance who went to school the next town over. Her name was Jean and she had red hair. She was no Betty, but I did take Jean to the drive-in. I behaved myself . . . for the most part  . . . and before long, we were going steady.
I was driving home from school one afternoon when I had to stop for a red light on Bedford Street. While waiting for the light to change, I saw Betty up ahead, looking in the window of a department store. Even at a distance I could tell it was her. She was still a big girl.          She was with a guy I knew named Billy. He had his arm around her shoulder like he was telling the world, "Hands off. This is my woman." Problem was, Billy stood about half a head shorter than Betty and looked to be about fifty pounds lighter.
I knew Billy from junior high. When we were in the eighth grade, he picked a fight with me during recess. He said something, pushed me, and I pushed him back. He grabbed me, we wrestled, fell down on the blacktop and rolled around, shouting obscenities at each other until Mr. Cleary pulled us apart and dragged the two of us to the office.
Billy was shorter than average and had a chip on his shoulder. Maybe that was the source of his chip. He was always looking for a fight, always in some kind of trouble, in school and out. But he never bothered me again after that day in junior high. He dropped out of high school and got a job as a stock boy in Miller's Department Store on West Main.
They made an odd couple, Betty and Billy. I chuckled at the two of them, walking down the street together, this Mutt and Jeff of a couple. But it suddenly occurred to me that Betty and Billy would probably get married some day and they'd probably end up living in a filthy apartment in the projects.
I felt sorry for them. Eventually life would wear them both down and Betty and Billy would fight. He'd drink, beat her, and walk out, one day for good. And Betty would become one of those lonely women who lived alone, deserted by her husband. And when her children were old enough, her girls would go to the drive-in with boys who had cars.