Bostjan Tacol – Artist Profile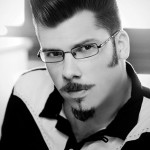 The first thing you will notice about Bostjan Tacol's photographs, are their intense vibrancy, their mastery of color and light. His work is truly a joy to behold–immediately catching your eye and pulling you into a nostalgic place. The images have the uncanny ability to carry us away, even as we remain rooted in our digital age. Not often is a photographer able to appeal to your sense of humanity and the joy of life so consistently–appeal to the notion that no matter how technological our lives have become, no matter how frightening and open and expansive the world may seem, anchored in all of us is a sense of joy, a sense of fun, a sense of color. As Tacol explains in his interview, relationships with models are key–perhaps that is his great secret, the ability to spark a smile in the models her works with as he convinces them to align and angle sparks a smile in us.

Tacol has worked for 15 years as a photographer, much of that time as a photojournalist for one of Slovenia's largest newspapers. In his personal work, ock 'n' roll music, vintage cars, pin-up culture, and general 50s aesthetic are powerfully represented. His photos add something that this issue would feel incomplete without: a sense of fun nostalgia indicative of Bettie Page. Dear readers of Literary Orphans, we encourage all of you to become followers of his work online–the "likes" you can give to a photographer's FB portfolio can mean an awful lot to a freelancer.  To see more of his work, or to contact his professionally, please visit his official photography website or Facebook page. He is one of the friendliest contributors (artist or writer) we have had the pleasure of working with–so don't hesitate!
Bostjan was nice enough to answer a few questions regarding his photography, inspiration, favorite drink, and what happened after when he picked up a soviet-era Praktica camera. You can read all bout it here, in his interview with Literary Orphans.
short url link | Women's Nike Air Max 270 trainers – Latest Releases