Blue Snow by Jordan Dotson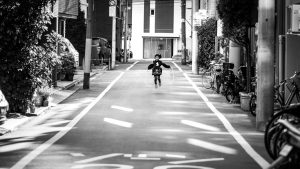 Xue. This word, Li Lan recognized. Study, it meant. How often she'd shoved it at Fei Fei, her only daughter, like a curse.
Xue. She eyed it through tears. So pretty in Fei Fei's mouth it had been. Rising up full of breath and promise. No wonder it sounded like upside-down snow.
Blue snow. They'd taken her to see it as a child, that magical weather born from the Min river that floats up, not down, past the cypress and past the peaks and eventually paints the sky. Snowflakes that choose not to fall.
To fall.
Just like Fei Fei fell.
Li Lan stared at the blue banker's check. She found she could read no more.
Instead, Li Lan forced herself to recall the cold spring morning, eleven years past, when Fei Fei's father left Gucheng village to search for work in the city. He'd cropped his silly hair shorter than scrub brush. His eyes dangled a smile she'd thought he'd misplaced. Still she could feel the rasp of his fingers. The kiss goodbye. How it too had rasped, with such discomfort it took Li Lan a half dozen years to recall as a treasure, and laugh.
Six letters, nine months, a call to the green dial phone in the old village shop. Li Lan remembered walking home, dust coughing from the ruts on Blue Heaven Road. Old Chen spitting as he stared from behind a flipped bicycle, it's rear wheel spinning like a clock. Sun dewing on the cypress. Her eyes had clinched so very hard then, unwilling to cry before the villagers, even as she stepped on a rusted nail and wrote the blood poem that marks the path home still today. She'd wondered how to explain it to Fei Fei, I-beams, harnesses and how they break. Why her father fell from the sky. Why he couldn't fly, just like blue snow, like he promised.
So too Li Lan remembered Fei Fei as she left on every first day of school. In nine years, she'd only had the one backpack, that cartoon mouse that grinned as she danced through the same cloud of dust along the same tire ruts, her ponytail wagging back and forth like a finger. Study. She'd said it so often. Study hard. This is your work. And go to college. And find a good job. And marry a rich man so Momma won't have to patch backpacks and coats till her fingers rot off. Every ruler slap, every tugged ponytail, they roiled back up in her mind. They wrote themselves in her freckles. Fei Fei had been so good at mathematics. Li Lan didn't even know how to write "mathematics" as a word.
Xue. Study. Zi. Child. And exactly thirty-six other characters she couldn't read, except for hao and except for yuan which made up the names of a hellish school and a bastard bank and then seven numbers she'd hate more than any she'd ever know in her life. When the compensation check arrived, she'd thought her tears had gone dry. Eighty thousand. The price of a daughter. So much higher than the price of a husband, the price that could send a fatherless child to school.
Li Lan tore the check into pieces. She ripped and ripped until the pieces couldn't shrink any smaller. And though they slipped through her callused fingers she couldn't stop tearing, couldn't stop falling, toward the front door where she flung them into the winter wind. And then Li Lan collapsed on the ground, knowing that she would never be able to rise. For as she heaved ragged breaths on the dirt floor, she stared at one blue shred in the window, it clung to the sill, and that was all it took, it was all she could see, Fei Fei, her child, her slip of a body on the schoolhouse roof, her tiny brown toes at the gutter's edge, her ponytail fighting and fighting the wind because all of Gucheng had already learned that no one in her family could fly.

Born in Appalachian Virginia, Jordan moved to China in 2005 to study classical poetry, and earned his MFA in 2016 from City University of Hong Kong before returning home. His work received the 2019 Editors' Prize from Scoundrel Time, and also has been featured in decomP, Quarterly Literary Review Singapore, Eunoia Review, Afterness: Literature from the New Transnational Asia, and Drunken Boat, among other publications.

–Art by Giuseppe Milo