"Betwixt and Between" and "Mephistopheles" by Raymond Luczak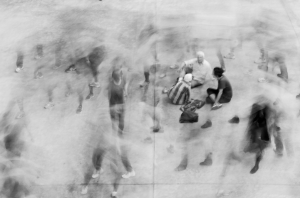 BETWIXT AND BETWEEN
One day I was human. Then I wasn't. I was alive, but not quite. I thought I was dead, but no. The onion skin of my being was inked with bruises. A great wind from the sea gustoed until the fingernails of my tears were dug into the mast of my life-boat. I flapped like a flag of no indeterminate country. The ocean laughed at me. I saw its vast mouth and it was hungry for a hors d'oeuvre like me. I scanned the waves for shadows of others I once knew by name and saw only fins sharpening its knives against the sandpaper of foam. I tried to conjure words in the astronomical dome of my brain, but such constellations failed to appear. My mojo was dust in the desert. I knew not which letters belonged to me, nor which letters I should belong to. Not a list, not a glossary, not an index, not a concordance. I was an alphabet soup filled with letters trying to pair up. The smog rose as if a copper lid taken off a plate. The sky turned clear as water sealed in cellophane. My heart is a dart poised in mid-air, waiting to puncture everything I've known.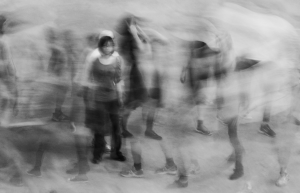 MEPHISTOPHELES
after U2's music video of "Even Better than the Real Thing"
Spin down and between my legs and whoa I will tell you the answers to everything in this world. I will wriggle my leather-shimmied hips and sheath my fly-faceted face behind sunglasses that will fisheye everything you see around me as I leer at the preposterousness of your questions. Let's face it, I'm too cool for you. Spin up and over my sexy ass and I will look back at you wondering what the hell I am doing to you. I will smile and unfurl my lamb-soft tongue releasing the cologne of my life. Words and images and emotions will overpower the stench of your nothingness. My musk deeply inhaled inside you with a longing for the rotten core of my sex will make you think you've fallen to the earth where worms are wrangling through the dark to crap out the worst of themselves only to leave behind the richness of life to come. Their bodies are pure nutrients. For a moment you cannot see. All you can do is to breathe slowly and think of yourself spinning around me in that centrifugal force of desire and madness, always orbiting in that elliptical way of mine but never kissing me. When you do at last exhale the residue of your remains, I will rope you in with my microphone and whisper a million lies that will be amplified inside your soul a billion times until you feel larger than the trillion meteors clusterfucking on their way to collide with this earth where we are still struggling to stay alive and relevant. Your death will be the orgasm of you.

Raymond Luczak is the author and editor of 22 books, including Flannelwood (Red Hen Press) and Lovejets: Queer Male Poets on 200 Years of Walt Whitman (Squares & Rebels). He lives in Minneapolis, Minnesota, and online at raymondluczak.com.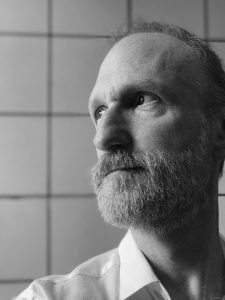 –Art by Dom Crossley — Artist Profile