Atrocities Of The Western World
by Peter Marra
she lay in bed
dreaming down
looking up
ceiling grin, nightmare rolling
her eyes rolled back in
sockets covered by lids glistening
with black eye shadow
mascara fluttering while
heard on
the fire escape
behind the glass
slow moan rising
whispering acts of humiliation after death
she cringed
that day burns
that night soothes
you shall see wonders
they are all beautiful
they said, it was said
scraping behind the curtains behind
windows soft
whispers we have you now
strained as she listens to them
do it now as we know
a walk down the hall
a walk down the hall
clad in furs / clad in lace
naked underneath / clad in plasma
(a scream for the bare blue & dead)
Splashing sounds
in the back room of an auditorium
expect great pain
an opening
really want to
really want to
really want to
the thin material accuses
wearing a passion rose
white hands between knees
shaking
quaking
trembling
on a bed, thought of dreams
a pussy, her mouth, her  fingers ached
she exclaimed: "Oh!
Spreading"
and bending started
spittle appeared and disappeared
She arched their bodies, half-glance
got in got down to it
flesh through and through with pleasure
beasts after silence rest in a meadow
damp with redness and black sighs
roll over twice and stare at each other's eyes
unable to tear away split
guilty amorous
a pussy – a full-length mirror
not responding to stroking
her legs are true.
(a burlesque for the cooked and eaten)
girl in a chair
a figure seated.
it's clothed in objects that were
purchased somewhere on the street
a long long time ago
maybe near the bowery
she paid for it and
it became a replica of her
sentiments
a memory to resemble theatrical scenes of
electrocution wedding rings
puppets or pictures through the holes.
a wall between them rises,
the executioner had pawned the peep-booths,
where they had hidden
themselves away for 7 days
9 years being lonely and
this is how she cured it
commoners crave the peep shows
inject it deeply as their eyes roll back seeing
a maiden on display – turned on
Lie in bed and wait for the darkness womb
That once comforted
It's gone it's gone
Stress fire pain
city of sin
a drab sky beckons
those walking underneath
the city bleeds eternal dreams
walking forward walking away
once up close as they tasted an approach
to stare at splendid accidents while
teachers bled standing up
giving instructions for the deaf and dumb
those vital organs were removed
a face stares blankly
as the autos speed by
a buzz infernal
a bland desire
smother the ideas that once grew
felt it openly then
whispered
of dreams
of chaotic ebony curls on fire
opened under fingers of an evolutionary promise
to enter into limaperu and
drive down roads of blood
while breathing thin air
superstars walk into glass slashed
in flames – it never goes out
a girl and her .44 a slow walk towards nighttime redemption
avenging the negatives of
luminous creature she once called her own
the city sleeps fitfully as she
traverses the lanes traverses
the ranges of sight
dreams of peru stolen from her
dreams of placid time eradicated from her memory
she bites her tongue and tastes the blood
it's time to go
but she has no destination
it's time to leave
but she'll stay and shoot
relishing the thrust
of the pistol and
the sound of the bullet

Originally from Gravesend Brooklyn, Peter Marra lived in the East Village, New York from 1979 to 1993 during the punk / no wave / art and music rebellion. He has had a lifelong fascination with Surrealism, Dadaism, and Symbolism.
His earliest recollection of the writing process is, as a 1st grader, creating a children's book with illustrations. The only memory he has of this project is a page that contained a crayon drawing of an airplane, caught in a storm. The caption read: "The people are on a plane. It is going to crash. They are very scared." His parents were always disturbed by that first book.
A Dadaist and a Surrealist, Peter's writing explores alienation, addiction, love, lust, the havoc that secrets can wreak, and obsessions, often recounted in an oneiric filmic haze with a taste of the grindhouse. He has had over 200 poems published in print or online.
His chapbook Sins of the Go-Go Girls was published in April 2013 by Why Vandalism? Press. Two of his short stories are in the anthologies Have a NYC and Have a NYC2 published by Three Rooms press.His short story Expert Collisions, recounting his experiences on 9/11,was published in Evergreen Review in September 2013 and will also appear in From Somewhere to Nowhere: The End of the American Dream, which will be coming out in 2014 from Unbearable Books/Autonomedia.
peep-o-rama, a collection of poems, was published by Hammer and Anvil Press in November 2013 and is available for Amazon Kindle. It may be purchased at: AMAZON.COM
 His published work may be viewed at www.angelferox.com.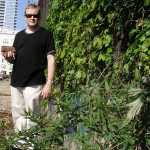 –Art by Bostjan Tacol