The Asking by Ava C. Cipri
This is just to say, young love;
how has the way been found
to the outer world?
The ordeal; it is a small plant, the Lily,
a prelude       a portrait in grays:
summer song  (wanderer moon).
Autumn: the attic which is desire—
the lonely street,
the sadness of the sea
offering a man to a woman.
A foot-note: the fool's song.

This cento is sourced from Williams Carlos Williams index of titles and first lines in The Collected Poems of William Carlos Williams Volume I., New Directions (1986).
Ava C. Cipri is a poetry editor for The Deaf Poets Society: An Online Journal of Disability Literature & Art. She holds an MFA from Syracuse University, where she served on the staff of Salt Hill. Ava's poetry and nonfiction appears or is forthcoming in The Fem, Menacing Hedge, Pittsburgh Poetry Review, Roanoke Review, and scissors & spackle, among others. Her first chapbook "Queen of Swords" is forthcoming this fall 2017 from dgp. She resides at: www.avaccipri.com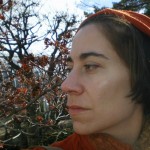 –Background Photography by Ed Wojtaszek
Sports brands | Air Jordan 1 Retro High OG "UNC Patent" Obsidian/Blue Chill-White For Sale – Fitforhealth