An Interview with Ben Spencer, Author of 'The Deer King'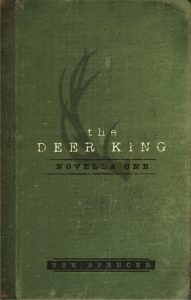 Ben Spencer is the author of The Deer King, which was released by Knock-Knee Books on June 23, 2018. You can find it in paperback and on Kindle at Amazon. 
When did you first come up with the idea for The Deer King?
About five years ago I started toying around with the idea of working on projects that were more, shall we say, fantastical in nature. The Deer King was the last project that came to mind. As a history teacher, I've always been fascinated with the colonial/revolutionary era, and I thought it would make a great jumping-off point for a fantasy series. I kept dipping my toes into the water with the first novella, working on it here and there, until eventually it became clear that I needed to make it my primary focus.
This is just novella one. How many are you planning? Is this a series you could see as being one that lives on forever, or is there a definite endpoint?
This question makes me chuckle. Like many who have come before me, I'm certainly tempted by the prospect of writing a series that continues indefinitely, but I also believe history is littered with the frayed minds of writers who ventured down that road. The goal right now is to write the first five novellas, and then make a decision as to whether it's going to be a ten novella series or a twenty-five novella series. Also, I think it's only fair to give readers who have invested time in the series a definite endpoint. If for some reason I find that I have the drive and the desire to write more, I like to think that I've structured the bones of The Deer King in such a way that branching off and writing additional stories or novels connected to the world of The Deer King won't be a problem.
The world you create in this first novella is very rich, and I got the impression you're a big fan of the fantasy genre. What works inspired and informed The Deer King?
It's interesting, because I came into the fantasy genre later in life than most people who write fantasy. I come from a rural, blue-collar background, so when I first began taking my writing life seriously I had a difficult time giving myself permission to have fun with the work. But as I grew out of my "the-portrait-of-the-artist-as-a-young-man" phase, it was clear the works that inspired me most were literary/fantasy/sci-fi hybrids like Cloud Atlas by David Mitchell and The Monsters of Templeton by Lauren Groff. Then I read an essay on writing by Benjamin Percy that bothered me in a visceral way; I felt like he was throwing down the gauntlet and daring me to shake up my writing and my reading life. Before I knew it I was diving deep into the back catalogue of Ursula K. Le Guin, hanging out in the fantasy section of bookstores, and really expanding my view of what literature could be. As for specific works that inspired and informed The Deer King, I'd be remiss if I didn't mention The Traitor Baru Cormorant by Seth J. Dickinson, The Broken Earth by N.K. Jemisin, Low Town by Daniel Polansky, The Dead Lands by Benjamin Percy, The Grace of Kings by Ken Liu, and, more recently, The City of Brass by S.A. Chakraborty and The Wolf by Leo Carew. It would also be a lie to pretend that George R.R. Martin's A Song of Ice and Fire–both the books and the HBO adaptation–didn't sink its claws into my brain in the same way it has so many others.
That essay on writing you mentioned by Benjamin Percy, can you tell us more about it? What about it bothered you in a visceral way?
Sure! I originally read the essay, entitled "Don't Look Back," in Poets & Writers. Percy was making the case that writers should more or less do away with backstory, because readers were smart enough to figure it out anyway, and drifting into backstory often slowed down or brought to a halt the momentum of the narrative. I've always been enamored with writers who deftly weave backstory into the plot, so my initial reaction was to scoff at Percy's advice. But then I reread the essay. And then I read it again. By the time I had reread it the third time I was having an ongoing conversation with Percy in my head, something along the lines of "I see your point here, but what about…" Soon after I read a couple of Percy's novels, and then I read his book of essays on writing, entitled Thrill Me. What's funny is that I often disagree with Percy, and, even though I respect and admire his writing, he is not my favorite author. But he's done more than any other writer I've read to push me out of my comfort zone, and for that I'm immensely grateful.
I love viewing your world through the eyes of Emmaline Rain. She's sympathetic, smart, curious — is she always going to be the protagonist of the series?
Thanks for the compliment. I have a ten-year-old daughter, and part of the reason I wrote the novella from Emmaline's perspective was in an attempt to see the world through my daughter's eyes. The plan right now is for Emmaline to be the series' go-to protagonist, but that doesn't mean every novella will be told from her POV. Emmaline is mentioned in novella two, but she doesn't make an appearance, and, in novella three, she's one of the primary characters, but the story isn't told from her POV. By the time the series is finished, however, she'll have taken the lead more than any other character.
What about The Deer King? We get to meet him, but he's a character shrouded in mystery. Why is the title of the series named after him?
The Deer King is a reincarnated deity, so he's representative of the history and culture of his people while at the same time being an individual. I love the friction inherent to this situation, because it's also a reflection of the Massaporan culture writ large—the Massaporan people are trying to hold onto their identity in a rapidly changing world while having to come to grips with the reality of the change. This is sensitive territory to tread in, but it's part of the larger theme that I'm exploring: when cultures clash, is there a way forward that allows disparate people to come together and form a new cultural identity without losing the meaning that comes from being connected to the past? The series will explore this in both a macrocosmic sense (the plight of the Massaporan people, and the politics of the Harrish) and a microcosmic sense (the evolution of the current Deer King).
This theme of cultures clashing… this may be me projecting, but I'm getting the vibe that it's inspired by our current socio-political climate. Am I reading this right? Is this something that's inspiring your storytelling?
It's difficult not to be affected by our current socio-political climate. That being said, I believe that art should largely exist on its own terms. But it's also naive to believe that art exists outside of politics, or to behave as if every piece of art isn't in some form or another a political statement. The danger is that art often loses its vitality when it exists to drive a political narrative, or, worse, it becomes propaganda. What I hope happens in The Deer King series is that the characters themselves imagine a world that transcends the shortcomings and failings of their current world, much as I hope we do the same here. And then, when realities and human frailties undercut their imaginations, I hope they do the hard work of forging hard-fought, imperfect compromises, while continuing to believe that they can imagine something even better.   
Let's talk about the format. Why the novella, and do you see this shorter-form narrative format as one that might be more accessible and digestible to readers in our dizzingly busy digital world?
I like the idea of tying a shorter format like the novella to a genre like epic fantasy because it asks something different of the reader: namely, it asks them for less patience on one end, and a little more patience on the other. Also, it's a nice study in contrasts, which I find appealing. I'm wary of works of art that are tailor-made for easy consumption, and I find that many successful works create a tension readers didn't know they wanted (I'm thinking of Patrick Rothfuss's meandering storylines in the Kingkiller Chronicles and George R.R. Martin's willingness to kill off central characters). It's also helped me get my head around the idea of epic fantasy: the scope of it can seem burdensome and oppressive, but, taken one novella at a time, it seems a lot more feasible.
The first three novellas are all due out this summer. Much like the first novella had a complete arc with Emmaline Rain, can we expect an overarching narrative that comes to some form of completion within the first three novellas?
It's not looking that way at the present moment! Haha. I'm a perfectionist, and I recently decided to rewrite a section in novella two, so I erased a month's work and then spent another month rewriting it, which has put me a bit behind schedule. I have a daily writing routine, but I promised myself years ago that I wouldn't rush myself if it meant creating subpar work. I think I'll have novella two—tentatively titled The Sundering, for the record—finished sometime in August and out in September. Then I'll jump right into novella three. By novella five the Deer King's childhood will be coming to an end, and that will set the stage for what comes next.
The Sundering is a great title. Love the way that rolls off the tongue, and I eagerly look forward to reading it. Where can we find updates on The Deer King?
Anyone who heads over to benspencerwrites.com can elect to follow my blog, then you'll receive an email whenever there's an update or when a new novella is released. I'm also on twitter @RBenSpen, and there's a link to my facebook page on the website as well.
Thank you for answering our questions!

–Background Art by Giuseppe Milo