2011: On the Metro to Tahrir by Tamer Sa'id Mostafa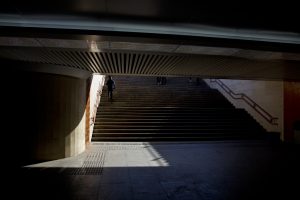 When the church blew to rubble and rebar
we left Alexandria in an enigma because gravity was a renegade,
that if these walls couldn't stall the exodus
of picture frames braided with wire and d-rings to tile,
what can we ask of cadavers thrashed through craters
like a wonder's ruins riddled to the seabed?
My father says it starts with an awakening
his father bringing him to al-Muqattam mountain
to see Cairo's composite buried like voices under the city's mosques,
mustered into aftermath. Their legacy is as lasting
as millstones, and the true stories
are never wounded.
A man on the aisle tethers prayer beads
between his thumb and forefinger
praise glory & greatness
for each powder blue bead sliding the twine
until tallying all ninety-nine.
He is their hydrangea strumming from an amber jellabiya
like sheepskin.
He commissions
his eldered hands into mine
so I can feel him hunger
for the cypress noosed with bull's-eyes
for his garland swallowed by the river
for the corpse that will sing to generations
through the mud.

Tamer Sa'id Mostafa is an-always proud Stockton, California native whose work has appeared in over twenty various journals and magazines such as Confrontation, Monday Night Lit, andMobius: The Journal of Social Change among others. As an Arab-American Muslim, he reflects on life through spirituality, an evolving commitment to social justice, and the music of Bone Thugs-n-Harmony.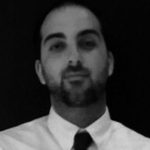 –Art by Jaime Ryan