Red Spring by Miriam Showalter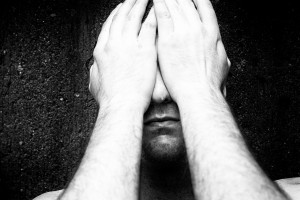 Rhoda rests her hands on the cool, patient earth, as though potatoes might absorb her blistering worries. Sunday meeting. Swartzentrubers' new barn. Mama shushing Eli, deaf to preaching, only mindful of buggies packed with pickled eggs and rhubarb pies.
But the Word took root in her heart. Afresh, this morning, Rhoda heard the bishop's tired old warning. On the heels of last week's dreadfulness, it rose up and stood before her altogether new: Come out from among them and be ye separate, says the Lord.
Now she presses into the soil. Head bowed, fingers curled round tuber and stem, Rhoda prays to be separate from her father – just for one day.
Her opening eyes catch a shimmer of flame. Cardinal fixes on a low dogwood branch and takes flight, crossing before a tall black form. No. No! He would not come out here on a Sabbath evening. Full belly. Day of Rest. Had he not told Mama they were going upstairs?
Wait. What in his eyes? Anger at her Sabbath gardening? Oh, let it be just that! Rhoda turns and smooths hair beneath her covering – checks again. No. His eyes are far away as setting suns.
Racing heart! Not again!
Trust in the Lord with all thine heart; He shall direct thy paths. Walk toward the side shed. Still, he comes. Cross arms; cover budding temptations. Longer, his steps. Pretend not to see him. Dark, purposeful strides. Don't scream; makes it worse! Crisp, poplin meeting-coat. Tomato stake – within reach. Love thine enemy! Large, calloused hands. Honor thy father! Thick fingernails against her softness. PleasePapaNo! Sandpaper fingers inside her. Sorry, Papa! Sorry, so sorry! Burning! Pounding! Gott Vater!
Flash of red.
Freedom in the branches. Cardinal asking: must you stay?
Rhoda closes her eyes; lets feeling fly. Perched above pain, she watches her own face empty.
Safe.
Separate.
Amen.

Miriam Showalter was quite thoroughly Mennonite until at the age of 39 she began broadening her experience of faith and community, not the least of which includes her current role teaching remarkable children with autism spectrum disorder. She's all about Sunday afternoon piano-and-fiddle jam sessions with her husband of 34 years, and she loves a good trek on Sarasota's beaches, bridges, or state park canopy walk, especially when their three grown sons are visiting. In the summer, she can be found having animated conversations with herself over a leisurely outdoor lunch, with an occasional red bird in attendance.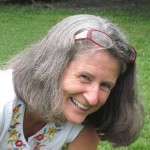 –Art by Charles Simms