Pilot Light by Seth Jani
It dials us back.
Takes us like someone's
Maligned horse
Through the portcullis
Of maybe shadows,
Of definite twilights.
It leads us to water
Thick as propolis,
Urges us to drink
From its gaseous hands.
When the conflagrant soul
Slips out like absconding music
It turns and lights the pilot.
All that we are just
A magnesic flash,
A sheet of lightening
In the dry ravine.

Seth Jani
currently resides in Seattle, WA, and is the founder of Seven CirclePress (
www.sevencirclepress.com
). His own work has been published widely in such places as 
The Coe Review
, 
The Hamilton Stone Review
,
 Hawai`i Pacific Review
, 
VAYAVYA, Gingerbread House
 and 
Gravel
. More about him and his work can be found at 
www.sethjani.com
.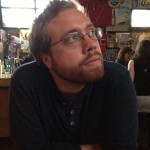 –Art by Kaia Pieters