Orlando by Anuja Ghimire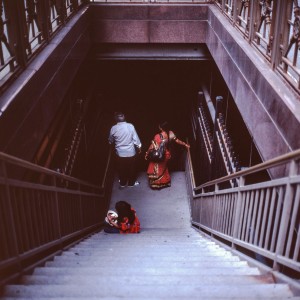 I need not complete this poem.
In the Milky Way, it would take 100 centuries for one star to get to another.
Let's break the words apart–lend me a hammer.
Even the nuclei don't matter.
Today, my children hugged the lady who bagged four gallons of organic milk and blew her kisses.
"Beautiful innocence," Kim said, her nametag sending light back to the ceiling.
So what if the girls know what love is.
Only humans feel embarrassed. Veins betray the emotion on our cheeks.
What color is despair?
"A bad guy," my six-year-old said about the scattered shattered glass around the tree carefully separated from the concrete of the parking lot
In a game of telephone, words alter truth with each whisper in a new ear.
Mr. Rogers said, "Always look for the helper."
But the flowers in my heart didn't last a spring.
I keep watering my little girls, but they blossom at the window.
There, the glass is always breaking.

Anuja Ghimire is a native of Kathmandu, Nepal. She was a Pushcart Prize nominee in 2015 for her poem "Six." Her poems and fiction have appeared in the U.S., Canada, and Nepal. Most recently, she has been published inPilgrimage, Straight Forward Poetry, Penny, and Right Hand Pointing. She lives in Dallas, TX with her husband and little girls. She works as an editor/publisher in the e-learning industry.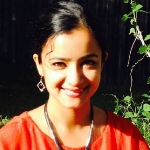 –Background & Foreground Photography by Jon Damaschke