Natalia Drepina – Artist Profile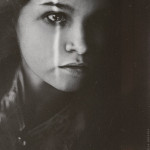 Natalia Drepina is a master of expression.  Combing through her collection is like combing through the human condition.  On the faces of her subjects, their gestures, and in their eyes, there is a story and Drepina is the author.  A professional photographer working in Russia, Natalia Drepina is often also the subject of her own work.  Her series of self portraits embody the explorations we all have in our lives of looking within.
Ever abstract in nature, and often dramatic, the feelings and emotions she explores in her works are not just on the surface in a pretty photograph, nor are they skin deep, but instead they are embedded deep within the essence of each composition.  The common themes of pain and love are ripe within Natalia's work and she is not afraid to draw blood.  These are qualities Literary Orphans is proud of when selecting fiction with a sharp edge.  Her work is always experimenting, always pushing, and always fresh.

We cannot thank Natalia enough for letting us showcase her wonderful work; please, check out her Deviantart, where you can donate to her projects. Also, be sure to like her Facebook Portfolio–speaking as one artist for another, knowing the support of the community is behind you is a wonderful feeling. Natalia's art diary is a great way to see her work in it's most current form. Ms. Drepina was kind enough to answer a few questions we had, which you can read right here, in our interview with her!