Light as a Feather, Stiff as a Board by Lori Sambol Brody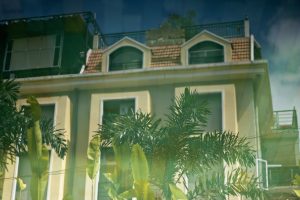 In the beach parking lot, the mustached biker pats the motorcycle seat behind him and asks us, Wanna see how you look here? Lissa and Lisa and Tracey and Gigi and I giggle, sleep-deprived from Gigi's slumber party. We're almost identical in tube tops, jean cut-offs, and crocheted bikinis, a string of five paper girls. The shadow of wanting and not wanting crosses their faces. Yes, I say. The word blooms from my lips. I swing my leg and straddle the seat. Tracy holds her Polaroid camera, says, Smile. The photo scrolls from the bottom of the camera. Ghosts become solid, although the Polaroids I have at home have done the opposite in sunlight, my face fading from the images. The biker says, Wanna take a little ride? Warmth grows deep in my stomach. I flip my hair. Yes. He puts his helmet on and I say, What about me? Copying my sister's tone when she's talking to boys. Baby, he says, you don't seem like the kind of girl who needs protection. He pulls my hands around his waist. We circle the parking lot. I wave to Lissa and Lisa and Tracy and Gigi. He says, What about a longer ride? Just five minutes more. I say, Yes. I've never been so close to a man I'm not related to before, cheek pressing into leather smelling of Old Spice soap-on-a-rope. On PCH he yells, Don't fight against the curves, we aren't going to fall baby. The sun burns the part of my hair as we race between Pintos and Buicks and wood-paneled station wagons like my mother's. Under the thick leather, he's doughy in the middle. He turns onto a canyon road and it's just us and heat mirages rippling on asphalt. We climb hairpin curves. We've gone farther than I thought and I'm cooling and hardening like clay. I lean as we take the curves; I'm afraid I'm going to fall. I want to go back, I say, but wind whisks my words over my shoulder. We stop at a overlook over the canyon. He helps me off, my thighs aching, my legs wobbling. How're you doing baby? He takes off his helmet, shrugs off his jacket. Tattoos cover his arms: FTW, a skull, a snake. I say, I want to go back. He shakes a cigarette from a box of Camels: Just a minute for a smoke, OK?  I say, Yes. He passes me a cigarette, cups his palm to protect the match from the breeze. My hands tremor. How old are you baby? 17? I lie, Yes. On the other side of the canyon, white spears of yucca bloom. I wonder how many cars have skidded over the cliff. He exhales and lays his palm on my thigh. That ember in my stomach is cold and the ash of my cigarette is a long withered snake. What will he do if I run into the road, wave down a car? But no cars pass. Can I kiss you baby? There's something about saying yes so many times. His mustache scratches my cheeks. Last night, at the slumber party, we played Light as a Feather. My friends surrounded me as Gigi told the story of my bloody death. It was only a game. They chanted:  She's dead; she's as light as a feather, stiff as a board. The tips of their fingers lifted me up and I floated. I'm floating now and I see myself below, small in the biker's arms. And when he asks me a question again, I whisper Yes.

Lori Sambol Brody lives in the mountains of Southern California. Her short fiction has been published in Smokelong Quarterly, Tin House Flash Fridays, New Orleans Review, The Rumpus, Little Fiction, Necessary Fiction, Sundog Lit, and elsewhere. Her stories have been picked for Wigleaf Top 50 and the Wigleaf Longlist.  One of her stories appears in Best Small Fictions 2018. She can be found on Twitter at @LoriSambolBrody and her website is lorisambolbrody.wordpress.com..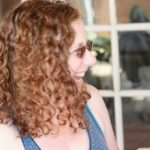 –Art by Jaime Ryan
Nike Sneakers | Nike Air Force 1 Low White Grey Gold – CZ0270-106