Broken Thing by Tom Whalen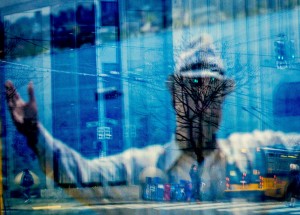 "I can't let this thing tell me what to do," Grandfather said, stepped into the street, and was run over by a diesel hauling nightgowns to the mall.
I looked at Grandmother, who appeared unchanged, that is in no sense a "thing," as the expression on her face turned from shock to horror.
Still, I wasn't entirely convinced my grandfather wasn't right.
"What are you really?" I asked.
"Your grandmother," she said, scraping her balding, despairing head on the sidewalk, which, I admit, was unusual, but then so were the circumstances, what with Grandfather dead on the street strewn with nightgowns.
"Why did you kill Grandfather?"
"I didn't, I didn't! I told him to wait for us!"
"Ah, yes," I said, just like Grandfather would say, "that's just like something Grandmother would say," as if she were only another broken thing.

Tom Whalen's books include Dolls, Elongated Figures,  The President in Her Towers, Winter Coat, and most recently a translation of Robert Walser's Girlfriends, Ghosts, and Other Stories (NYRB Classics). He lives in Stuttgart, Germany.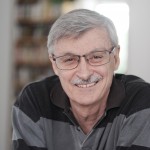 Photo of Tom Whalen by Kim Graser (2015)

–Art by Milton G. (Paradise Found)