Birds Are Older Than We Are by Adam Lock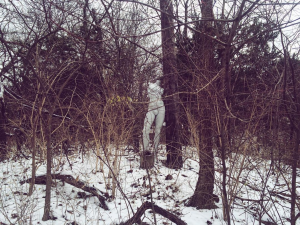 I go out the back and into the garden, so it looks like I'm actually interested in buying the house.
Lying in the snow is a dead magpie. Snowflakes melt when they touch it. Its good wing is stretched open, black with shades of green and purple. Its other wing has been taken apart: strips of muscle, chinks of cream bone flecked with brown flesh. Its chest is clay-white against the snow. Its head on its side, beak closed, its eye stares at the sky.
A cat is on the fence, its head falling lower than its body, its eyes on the dead magpie. Killing the magpie has nothing to do with food. It's a show of force. An act of terrorism. A work of art. It's mathematics: a balance struck between it and the bird. The magpie is on the wrong side of the sum, that's all.
Davis opens the back door. I stand so he can't see the dead bird.
'Sorry about that. Important call — place on Beech Avenue. You know it?'
He holds up his phone before pushing it into his suit jacket pocket.
'Never mind. It's not the area you're looking for is it?'
He turns to look at the back of the house, holding open his arms like he's a circus performer and the house a big top.
'So. What do we think?'
'It's just what I'm looking for.'
'A steal at this price.'
His smile disappears and his eyes look up at me through a fringe of black hair. His hand nudges the knot of his tie.
'If you're serious, we need to work fast. You in a strong position? Working fast-wise?'
'Yes,' I say, and I want to tell him about the day Nicola left but I don't.
He takes his phone from his jacket pocket and checks it.
The cat jumps down from the fence, making it rattle.
'Ah, that's Ralph,' Davis says. 'Previous owner's cat — he died. Ralph's pretty old. Didn't think he'd still be knocking about.'
Ralph is the colour of a tiger.
'Look,' Davis says holding out his hands, looking up at the sky, 'it's snowing and it's cold. How about we go inside, and talk about making a sensible offer?'
'Sure,' I say.
He goes into the house.
Ralph pads through the snow towards me and stops, one paw hovering above the snow.
I drop to my haunches and lean over the magpie. I want to arrange its broken wing, return its feathers, cover the red snow, turn its head so its symmetrical.
Ralph disappears into the overgrown bushes.
At the end of the first month, a baby is smaller than a grain of rice and has a heartbeat. In the third month it can make a fist. I don't know when it starts to think or dream. I don't know what happens to dead, unborn babies. They said they'd take care of it. They said to Nicola she shouldn't worry about any of that.
Davis is at the back door, showing me inside.
I stand, move towards him so he sees the magpie. The snow falls. And I tell him who I am, tell him it was my fault, tell him Nicola couldn't forgive me.
He's thinking it through, his forehead creasing, eyes narrowing. 'It's Craig, isn't it?'
'Can you tell her I'm sorry? She doesn't want to see me.'
There's no ceremony, no ritual for babies who die so young. There's no language for it either, so people say nothing.
'You're not here to look at the house are you?'
A magpie squawks in the next garden. Another magpie lands in a tree, flaps its wings, and squawks too.
'I want you to tell her I'm sorry.'
Davis talks quietly, 'Nicola told me what happened.'
'She has a boy now?'
He nods, folds his arms across his chest, the steel of fatherhood in his eyes.
A breeze blows over the snow, moving the feathers. A magpie lands in the garden; it hops in the snow, the side of its head aimed at the bushes where Ralph is hidden. Over and over, its machine gun squawk. Birds have the language — they're older than we are. Another magpie. And another. In turn, each one lands next to the dead bird. With necks thrust forward, they squawk at me, at Ralph. All the noise. The snow comes again. Identical black and white, beaks open to the sky, the magpies croak their death ritual and I don't want it to stop.

Adam Lock writes in the Midlands, in the UK. He recently won the TSS Summer Quarterly Flash Competition 2018 and the STORGY Flash Fiction Competition 2018. He was also placed third in the Cambridge Short Story Prize 2017, and has been shortlisted twice for the Bath Flash Fiction Award 2018. He's been published in many publications such as Former Cactus, MoonPark Review, Fictive Dream, Spelk, Reflex, Retreat West, Fiction Pool, Ellipsis Zine, Syntax & Salt, Ink in Thirds, and many others. You can find links to his stories on his website:adamlock.net. He's also active on Twitter at: @dazedcharacter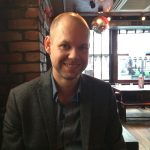 –Art by Jaime Ryan