nonfiction by Thomas Larson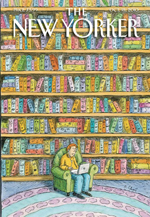 The cover of The New Yorker, October 18, 2010, by Roz Chast, is titled, "Shelved." The cartoon features a young man, whom I'll call Jimmy, sitting in an overstuffed comfy chair, a laptop opened on his knees, headphone buds stuck in his ears. What's Jimmy doing? Reading? Listening? Watching? Perhaps all three. All three at once. Whatever Jimmy's absorbed by, the eight-and-one-half shelves of books above and behind him are reacting. Faces on spines (the eyes-nose-mouth motif) are angry, indifferent, surprised, chagrined, shocked, curious. Many of the books appear to have their personalities, perhaps reflecting the book's contents, captured in their gaze. For every enraged expression (How dare you! This is a library) there's another look which seems powerless—after all, what can books do to counter the realm Jimmy occupies other than bemoan his disinterest or their fate?
Roz Chast's comment seems obvious: the books have been shelved, forgotten, abandoned. Their grand era is no more.
Gone with the books also is the habitual handling they were used to. I wonder: Isn't some keening for that intimacy central to their protest? Taken down, cracked open, marked and underlined, lovingly loaned, jealously guarded, shelved and collected and waiting for consultation or re-reading. Chast's cartoon is implying that the thrill (of touching a book) is passé, and it's this loss the books are lamenting: oh, the tactility of textured paper given up for the plastic screen of an iPad.
Jimmy has left behind not only the books but also the culture that supported those books. It was a culture in which reading and privacy were linked to repose: the armchair traveler secure in the sanctity of print: the PRINTED WORD as truth. While that culture may capture Jimmy's interest, its sensory involvement is, for him, one-dimensional. Jimmy's media home is far more involving outwardly and inwardly than print ever was, the programs of a laptop abuzz with linkage: email; social networking; blogging; programs that guide him to write, read, photograph, make videos, record speech and music, self-publish e-books, create e-poems with flash, and more—all in that pancake-flat machine resting on his knees. In such a touch-run and voice-activated world, the book doesn't stand a chance. The book, sad to say, is barely in the game.
I spend months meditating on Chast's cover. But there's something else about it that nags me, something I've missed. I go back to Jimmy, the ear-budded user. I can't figure out what he's doing. Is he a writer, a reader, a player, an observer, a programmer? Were Jimmy holding a book, I would say he's reading, maybe pausing to think or daydream. He might be marking up the book's margins, but he couldn't be doing much more than that.
Suddenly I get it. It's this quid pro quo of technologies that fascinates me: Chast is inviting us to compare the usability of the laptop with the usability of the book. It's a kind of literacy contest, mode against mode. The book's relationship to its reader is pure. The computer's relationship is to its reader is impure, so to speak. The relationship is to many things, many things at once. Thus, for me, Jimmy's mystery and ambiguity. He could be writing. He could be reading. He could be listening to an audiobook or a podcast. He could be surfing Web sites. He could be, simultaneously (and perhaps poorly), doing his taxes, listening to Van Halen, checking his email, Twittering, glancing at a scroll of college football scores, and editing his essay for Freshman Comp. Jimmy could be doing a whole lot of things or he could be doing a whole lot of nothing.
Jimmy is somewhere in media command—the media commandeering him and he commandeering the media. Since there's no pure and singular act of reading, and Jimmy's no doubt hooked on more than one of his programs, he's somewhere else, somewhere compromised, many-layered, multiplatformed, distractible, present-pulled.
Such multiplicity is what the book doesn't allow. That's why he's not reading books. Such multiplicity is what the computer does allow—is built for. The computer is Jimmy's means not only to involve himself but also to assemble a multi-sensory whole, to integrate its pushes and pulls by his own design, to build and/or manage a self via whatever is going out of him with whatever is coming in to him.
I don't know what he's up to, but his switched-on user profile doesn't matter. He's interacting, he's creating as much as he's consuming, he's updating his Facebook status because he's found a girl he likes a lot and her picture, red-dyed hair and flower-tattooed shoulder, is what those book spines are ogling over his shoulder. Jimmy is closing the gap between what he's doing and who he is. He is discovering and becoming himself online.
What's more, as Jimmy discovers himself, he is also being pushed (and if he's got any gumption, pushing himself) to press what he's found on others. Call them friends or followers or his audience—they are people like him whose real life contact has been spearheaded by online exchanges and reciprocated via those exchanges. When an online community meets in the flesh, they have already negotiated the opening gambits of friendship.
It's coming clear: I want to understand how we Jimmy's of the twenty-first century are being thrust into the digital era where our virtual selves are shaped, which, in turn, shape our actual selves. We and our technology are authoring our selves, then fitting those selves into the world.
There's that word, author, in contrast again, to writer. Writer says you write; it may be your profession. Author also says you write, though it may not be primary to what you do because you also speak and design and collaborate and video and co-create and perform. In such a multivalent field, writing may be a mere adjunct, a mere secondary. Writing may be the gateway to a larger self or collaborative expression you never thought yourself capable of so busy were you trying to fit your talent into the cramped world of print.
Nowadays everyone is (or can be or wants to be) an author because the new media makes the user's product less important, and his or her production—his interactivity with virtual and actual machines, programs, friends, followers—more important. The old synergism of reader/writer created those books, now languishing on the shelves. The new synergism of user/participant/player/author (the total Jimmy) includes books, but it also includes a kingdom in which as long as Jimmy's online or involved with a flesh-and-blood community—where someone virtual or actual is responding to him—nothing he touches will ever languish.
——–
Thomas Larson