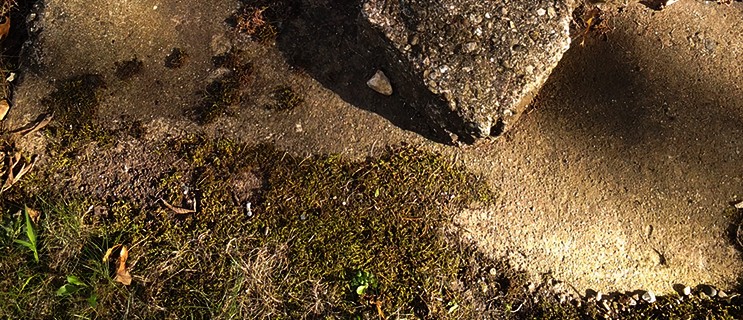 "Underside" + 3 Prose Poems by Don Thompson
Underside
Every time you turn over a rock you give up a secret that may have been kept easily for a thousand years. Maybe you violate the tomb of a beetle that used to glitter like Pharaoh. Those pale grubs never harmed us that you expose to the withering light; nor the earth worms in their awkward panic.
The rock you disturbed had settled its differences with us long ago, offering its smooth side, weathered blandness that ought to be good enough. Why should the world know the worst? Why do we need to look at the muck underneath, sniff the fetor, cringe at the unpleasant insects scrambling for privacy? But that's us. We can't leave anything alone.

Leaves
Leaves are just leaflets to us, ads for things to do this summer with a press run in the thousands and all alike. No one bothers to read them. More lies, we think, junk mail, as if life were an offer not worth redeeming: term insurance with so many exceptions in such small print that no policy can be redeemed; or a sweepstakes in which we're all guaranteed winners who lose on a technicality.
But maybe that's wrong. Whatever is written on the leaves the shrewd insects devour it. And you have to look hard to find the birds perched up there, so still and library quiet, lost in contemplation. Nothing ruffles them. Maybe you and I, hassled half crazy, could learn to read leaves too and feel better. And not have to know why.

Aubade
Almost liquid—but not, of course—the light this morning is seasoned with ginger. Lots of it. Its syrup spreads across plowed fields, farther and farther west as the sun comes up. A dozen sparrows dip into it, in and out almost as quick as hummingbirds sample a blossom and equally delighted. Don't tell me they can't taste it just because you and I don't know how.

Geometry
The sparrow perched on a fencepost must study geometry. Nothing can be done about the tail feathers, of course, but he's tucked his head in and puffed up to a sphere so exact Euclid could sign off on it. I want to achieve something like that: math for once rather than emotion. But what would be the human equivalent of pure form?
How about a plane? Such repose. Imagine facing the world as a sheer cliff, burnished by bad weather until it catches the light. Instead we're all crags and shadows, rubble barely holding together: a rockslide waiting to happen.
—Poems by Don Thompson
***
—Background photo by Doriana MariaSportswear free shipping | 2021 New adidas YEEZY BOOST 350 V2 "Ash Stone" GW0089 , Ietp