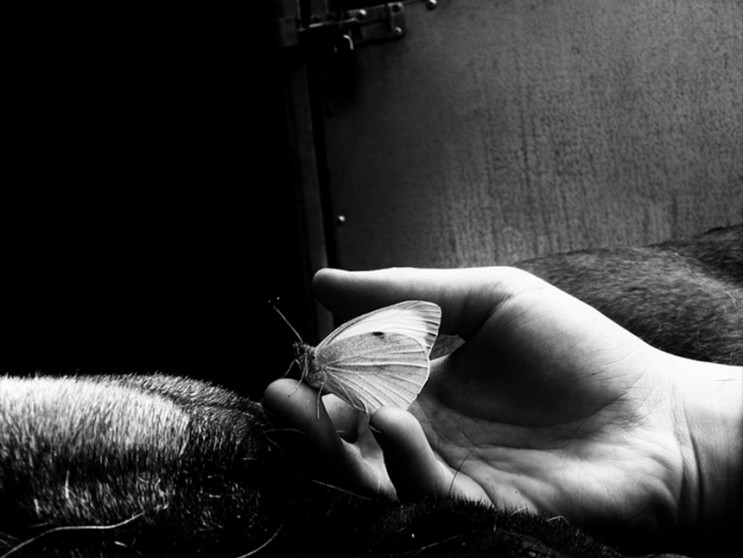 "By Gone" by Art Griswold
By Gone
The old woman sat alone in her rocking chair stroking her half blind tabby cat, both of them reminiscing of younger days long gone by. Her family had left nearly an hour ago, tuckered out from the celebration of two milestones for her, not only was she 85 today, but this would have been 60 years since she'd first kissed her husband. He'd been dead these past 15 years, but not a moment's passed that she hasn't thought of him sitting in the rocker next to her whittling something, quietly whistling some old tune.
She sat and rocked and watched the sun go down to sleep behind the horizon, as her daddy used to say many, many years ago. The cat purred its rusty thrum and feebly kneaded her lap as he licked her hand with a sandpapery tongue that scratched with every lick. Oh, she didn't mind, she loved him just as much as he loved her, solitary companions in a sea of movement and silence.
Sighing deeply, she managed to stand while still holding ole puss in her hands, and shuffled inside to start preparations for bed. As she went into the kitchen to get her furry friend a small dish of milk, her eyes settled on what seemed to be an unopened gift on the counter next to the icebox. Casting her memory back to earlier that day, she could barely snatch a recollection that it had come in the afternoon mail, addressed to her from a name she did not recognize.
After gently setting her cat on the floor and serving him his evening repast, she picked up the parcel, placed it on the table, and sat herself down, weary bones creaking all the way. She slit the paper open with her letter opener and carefully folded it and set it aside with the thought that she might reuse it on a gift to another. Underneath the paper was a shoebox, and she lifted the top to reveal a letter and several packets of snapshots yellowed by time and held together by hardening rubber bands.
She frowned slightly as she glanced at the top photo, and a hint of recognition wafted over her mind. With a raise of her eyebrows and an imperceptible shake of her head, she opened the letter, and as she read it, she could feel her entire world shift. The words written within took her back to when her beloved was away doing his duty for his country, and she had been working in the factory doing her part as well.
The letter brought back to her mind eyes as brown as the dirt, and a face that had haunted her for almost 50 years. She was reminded of the one transgression she had ever committed, and her heart broke all over again as it had so many times in the past while she looked into her husband's blue eyes. She remembered the man who she had thought was a friend, and then was more than that, but in the end turned out to be just another man only interested in one thing.
She remembered Rose Marie, the tiny little love that she had only held for a moment before it was whisked away to be loved by another woman.
Heaving a deep sigh, blinking back tears that were determined to run streaks down her face, she held the letter to her bosom. She looked down at the photographs, and let her mind drift back to the war, when the days seemed longer but also simpler. Less people, less noise, less pollution, more respect for the common man.
The daydreaming took charge, and she was lost in the memories, reminiscing of days long gone by and people long vanished from her life.
—Story by Art Griswold
***
—Background photo by Doriana Maria
—Foreground photo by Eleanor Leonne BennettNike sneakers | シューズ