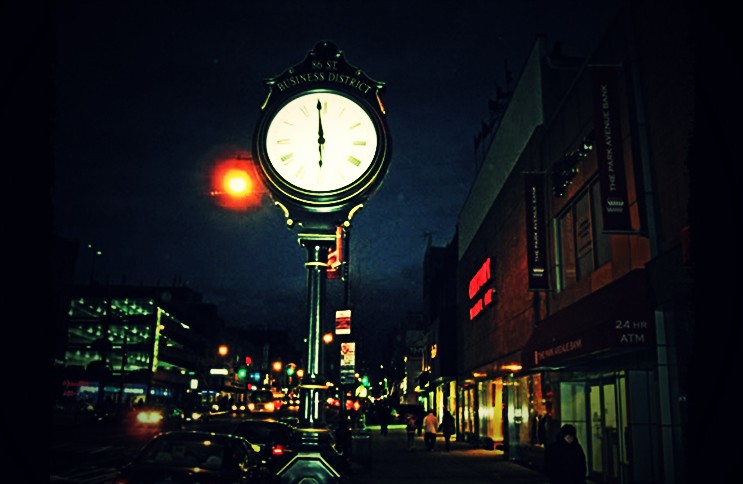 "An Emotion, Hard to Define" by Mike Joyce
An emotion, hard to define, stalks Capital Street. After last call but before the puffs of exhaust from Sunday morning paper delivery–at a time when the best thing in your life that ever happened to you changes into the best thing in your life that ever could have happened to you and it melts the frost that started in your gut two days ago that's been telling you you were stupid. Stupid for jumping. That part only ever says slow down slow down or blow it after your feet have left the ground.
The moment stakes itself undefinable in the snowlight afterglow of streelight solitude beneath a hotel and the neon sign of La Puesta Del Sol refracting off a sleepy, icy river in this hilly town. The light from down here tells you she's up there with the hidden chocolates on top of the dusty Bible. They were never anything more than a gimmick, as sensical as a prayer card burned to the classic gods of enlightenment love.
You asked–, the frost says but before it can finish the undefined says it didn't ask for this, it demanded this. Two hundred year old words pause a riverside transaction on a stone bench in this out of control night with its cadence, Tyger! Tyger! burning bright, that echoes over Oxford leather and soft hands as you smile at her. She looks up, mouth full and liquid eyes heavy with heroin. An emotion, hard to define, pulses quiet and dangerous like a dust that gets into everything, from the floors you walk on to the food you eat.


This piece, "An Emotion, Hard to Define" was previously published in Thunderclap!, issue 8, by Thunderclap Press.
—Story by Mike Joyce
***
—Foreground photo by Ira Joel Haber
—Background photo by Doriana Marialatest jordan Sneakers | adidas Yeezy Boost 350